Tired of the limited Android TV, gaming and entertainment products in commerce these days? Sure, they are not new at all. You have probably tested a few of them or at least read some reviews. However, most of them came with limitations. With all these, the original products were quite expensive for what they could offer. Things have changed lately though. Announced months before the official release, Razer Forge TV has finally hit the market in March, 2015. It has become one of the most rated Android entertainment devices in commerce, mostly because of its convenience and versatility. Then, what should you expect from it?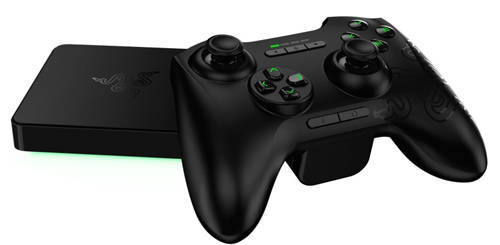 Features
At a first glance, the Android device does not look too promising. It looks like a classic console. However, it does have some of the traits associated with Razer devices. Besides, once you get to hold it, you realize that it is more than just a console. It feels sleek, just like it was specifically designed for your hands. It is also attractive, while the green accents make the difference. Controls are placed in an unusual manner. They are not symmetrical one to another. However, you will get used to the awkward positioning in no time. Maybe it is only a psychological idea, but chances are you will actually find this arrangement more relaxing.
The unit comes with a quad-core processor and top-notch graphics. You can easily handle full HD media files and games, whether you use wireless or Ethernet connections. It takes Android gaming to the next level. You can also switch between the TV box and your smartphone, not to mention picking up where you left off. Since you can control up to four different controllers, multiplayer becomes part of the process as well.
Bluetooth controller is included in the gadget. There are no lags either. Commands are executed as you control them, in an instant way. As if all these were not enough, it is impressive how many applications and content you gain access too. Enjoy movies, music, videos, shows and applications. Plus, Google Cast is built-in, while voice control is part of your experience. What else can you ask for?
Pros
Impressive list of applications, media, shows, videos and programs
Ergonomic and sleek design
Awkward, yet quite relaxing control arrangement
Built-in Bluetooth control
Multiplayer gaming capabilities
Quad-core processor for a top notch speed
Full HD possibilities
Can connect to the smartphone to continue games from where you left off
Cons
No built-in Netflix access
Has less applications than other similar devices
Conclusion
In the end, Razer Forge TV is certainly worth some attention. The gadget is easy to get along with, not to mention the intuitive controls. It provides access to numerous features, but it also pushes the gaming experience a bit farther. Those who are used to other Android TV boxes will love the outcome, as well as the possibility to outweigh many previous limitations. Furthermore, access to media has never been more facile, regardless of what kind of entertainment you are interested in.