Even though next generation gaming consoles continue to break sales records, most people agree (including industry insiders) that the future of gaming is going to be decided on mobile devices.
Android, smart phones, and even new set-top boxes and smart devices have already built up a dedicated gaming community and marketplace. With the gaming dev tools getting better and better, hardware getting more powerful, and prices tumbling downwards, there's a perfect storm of conditions brewing to convert more people to mobile gaming than ever before.
That's where the Nyko PlayPad Pro comes into play.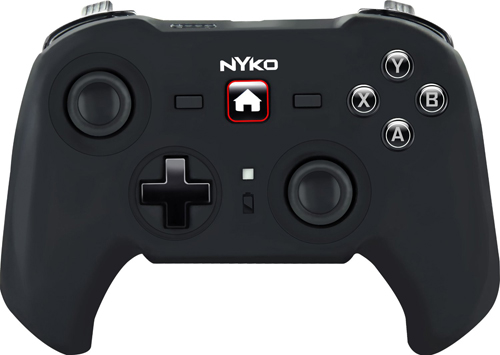 Find Nyko Playpad Pro on Amazon
A
dedicated gaming pad for Android devices
, it's almost impossible to even attempt to play mobile games without it after you have given it a try!
Initial Impressions
Designed to look (and feel) shockingly similar to a hybrid of the Xbox One and PS4 controller, the Nyko PlayPad Pro takes the best of both of those worlds and melds it into a very capable and comfortable gaming controller.
A little bit on the lighter side of things (which can feel odd in the hands at first, especially if you've gotten used to other gaming controllers in the past), it's a capable device that gives you console like control and precision that you would not have had when gaming on your smart phone or tablet!
Pros
Thanks to the Bluetooth connectivity, this Nyko PlayPad Pro is going to be able to connect to all of your Android devices. That means that your smart phone, tablet, Chromebook, or Amazon Fire TV (amongst others) all can share the same controller – keeping costs low while allowing you to get the most out of your gaming experience.
It also has built-in keyboard mapping software so that you can control your media centers from the comfort of your couch. Though not guaranteed to be compatible with every single Android gaming title out there right out of the box, that same keyboard mapping tool lets you configure the options so that it will always work.
Cons
The only real knock against the Nyko PlayPad Pro is that the software can be a little bit buggy when linked to non-optimized devices. Though it will work like a dream on most Samsung, HTC, and Motorola devices (as well as the Amazon Fire TV and Ouya), there are definitely a number of phones and tablets that it just won't play nicely with.
Final Verdict
Provided that you have a device that has been optimized for the Nyko PlayPad Pro (or are willing to deal with the occasional hiccup), there's a lot to love with the Nyko PlayPad Pro.