The MK808B is an Android mini PC that includes quite a few interesting functions and specs. Like any other Android device, it allows you access to almost the full suite of Android applications, perhaps with the exception of apps that require a touchscreen. Still, as a device that enhances your living room TV experience, the MK808B is quite a formidable opponent compared to many of the other Android sticks out there. You also might be surprised at the number of things it can do, especially given its very small form factor.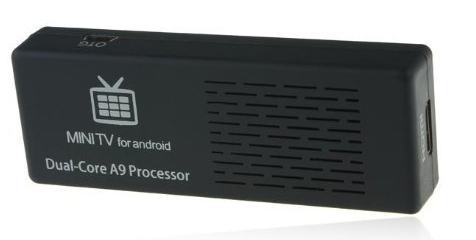 Buy MK808B on Amazon
Features
The MK808B includes Android 4.1 Jelly Bean, a dual-core Cortex A9 RK3066 processor, multi-language support, built-in support for Bluetooth, and a mini-USB host port, which can be used to plug in various kinds of USB devices.
Since there is only one USB port, you'd probably want a way in which you can use more devices without having to use a USB hub. Since it also supports Bluetooth, you can also pair with it nearly any kind of device that you want, including keyboards, mice, game controllers, headphones, and so on. Overall it's quite a versatile little machine with a surprising amount of utility.
Specs
As mentioned, the MK808B includes Android 4.1 Jelly Bean. In addition, it also has 1 GB of DDR3 memory, 8 GB of internal storage, the mentioned dual-core CPU, support for both modern Wi-Fi standards as well as Bluetooth, full support for nearly all Android apps and games, support for Flash Player 11, a built-in 3D accellerator, and support for a wide range of audio and video codecs, which of course is quite important for an Android mini PC.
With a weight of 6.4 ounces, it's also likely the lightest computer that you'll ever own. It weights just as much as your average USB stick, and yet it can function as much, much more. Given their small size, light weight, and sheer convenience, it wouldn't be too surprising to see more sophisticated mini PCs in the future.
Other Thoughts
The MK808B is great for its intended purpose, as a small device that enhances the way you use your TV. It's certainly not going to replace your actual cable/satellite box, game console, or PC any time soon, but it's definitely a great start, and comes with an operating system that already has an amazing selection of apps and games. Incompatibility with touchscreen games is the main concern, but it's not too big of a deal since a lot of games also support controllers.
Small and compact, this dongle was designed for people on the go so that you don't have to be stuck in front of a computer to enjoy your favorite content. You can watch movies and TV shows from YouTube, Netflix, HBO Now or any other streaming video service. The MK809IV wirelessly connects with your Bluetooth devices like headsets or keyboards so you can be productive or entertained from anywhere in your home.
This powerful little dongle also has great gaming capabilities. Play your favorite Android games on the big screen with the included wireless game controller or use the Bluetooth feature to connect with other devices. With 2GB of RAM and 8GB of internal storage, you have plenty of room to store your games, music, pictures, and videos. The Androset Dongle MK809IV is the perfect solution for anyone who wants a great multimedia experience without having to purchase a new TV or computer. Order yours today and start enjoying your favorite content immediately.