Every respectful manufacturer has released a console over the past years. Such news no longer draw any attention, unless they come up with something special. You have probably tried a few of them as well. Some of them are better than others, yet most of them have limitations. Most gamers pay attention when something outstanding is about to show up though. This is when Mad Catz M.O.J.O. Micro-Console For Android steps in to give you some hints. The micro-console has drawn plenty of attention since day one, mostly because it can easily surpass recent overshadowing developments, not to mention clearing their minuses as well. Then, what are your expectations?
Features
At a first glance, this console looks like a regular, yet improved one. It has an unusual control arrangement, as well as two different sets of buttons. The other controls for media and connectivity are mentioned on the interior part (between the "arms") and between the main controls. The design looks fat and bulky, yet it feels extremely comfortable as you grab it. In fact, you will be surprised by how well it fits your hands.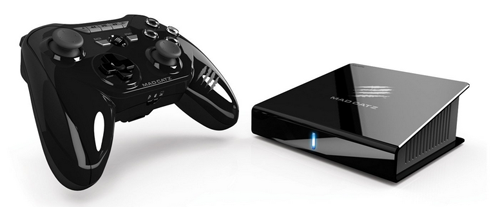 The micro-console from Mad Catz is ideal for both games and media applications. You can connect it to high-definition TVs to play your favorite games, stream music, play videos, watch your favorite shows and even surf the Internet. The interesting part is that it allows a deep grade of customization. Basically, you can root it, then individualize its features accordingly. Sure, this extra capability is not necessarily recommended to newbies who got no clue what they are doing. Furthermore, connectivity includes controllers, mice, headsets, Bluetooth keyboards and other smart elements.
The unit features a powerful 1.8GHz NVIDIA Tegra 4 processor, as well as 2GB of RAM and 16GB of memory. If you think you need more memory, get a microSD flash card. It allows wireless connectivity, Ethernet connections and 5.1-channel surround system. As if all these were not enough, you can turn it into a wireless hotspot for your friends.
The wide open platform opens the door to numerous capabilities. Install your favorite applications from OUYA, OnLive, TegraZone, Google Play Store and others.
Pros
Able to stream Ultra 4K videos or surf the Internet
Accepts memory cards
Multiple forms of connectivity, including wireless, Ethernet and Bluetooth
Cloud gaming
Easy to root for a deeper customization
Wide open platform allows installations from more web stores
Microphone support
Bulky, yet extremely comfortable
Sturdy phone clip
Cons
Navigation bar could use more functions
There are better Android game consoles out there
Conclusion
In the end, Mad Catz M.O.J.O. Micro-Console For Android can definitely make your gaming life better. The console looks like it was specifically developed for avid Android gamers. Indeed, it can work wonders on your gaming experience. With all these, it does have its fair share of extras as well. Enjoy your favorite music, stream the latest movies and enjoy your TV shows, but also connect with your friends and go online whenever you need to socialize. However, I don't suggest buying this console. There are many better choices out there.