The Logitech Gamepad F710 is being praised as one of the best overall PC controllers available. It seems to have combined the best features of the Xbox 360 controller and the PS3 controller into one perfect gaming tool.
Features
Wireless controller
Extra-long battery life
Fully customizable controls
Twin vibration motors
USB extension cable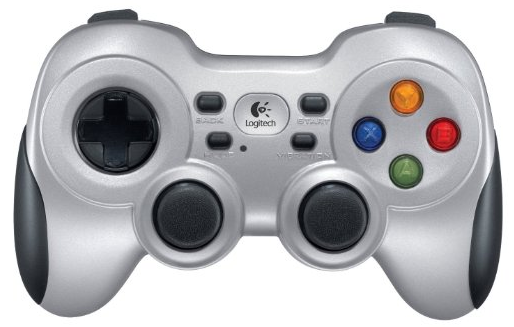 Click here to see price and discounts on Amazon
Button Resistance and Response
The joysticks have enough resistance to them that they won't feel wobbly or lose. The buttons also feel like they have some weight to them when you press them in. They do have a bit of that cheap plastic feel when you touch them before pressing them down. All in all, the joystick and buttons provide just the right amount of resistance but not to the extent that it will cause fatigue in your hands.
The buttons, joysticks and d-pad all have a great response rate. The only exception is the diagonal directions on the d-pad. They are difficult to press at first and take some time to get used to.
The joysticks are more similar to those on the PS3 controller than Xbox 360. If you prefer the PS3 joysticks but like the Xbox layout, this is the prefect controller for you.
The Feel
The rear of the controller is smooth to the touch. It has a clean plastic feel. The joysticks have nice rubber padding on top so you don't wear your thumbs out playing with it.
Specs
Connection – 2.4 GHz wireless
Dimensions – 6.6" x 3.1" x 7.9"
Weight – 14.4 oz.
Compatible with Windows XP, Vista, 7 and 8
Requires two AA batteries
Easy to Install
It works just like any Xbox 360 wireless controller would. Windows was able to find the drivers to install the controller immediately. I was playing within 5 minutes.
Battery Life
It has a great battery life. This was one of the strengths people pointed out over and over again on the Amazon reviews. It takes two AA batteries and it has a battery life that is very comparable to the original Xbox 360 wireless controller.
Extensive Customization
You can create extensive button combinations using the profiler software. It required a slight learning curve but if you give it a few minutes you will be able to program just about any button combination that you would want into the controller.
Wireless Range
The wireless had a flawless response rate from up to 3 feet away, but started to have issues further than that. It comes with a USB extension cable if you would like to use it from farther away. Using the extension cable, I was able to play with it in another room without any problems.
Amazon Reviews
The reviews on Amazon are very positive. It currently has a rating of 4/5 stars with 726 ratings and reviews. Most of the reviews describe it as nearly perfect as the PC answer to the console controller. The bad reviews were mainly from those that had difficulty programing the Profiler software or were expecting something different from the product.
Final Verdict
Overall, this is one of the best PC controllers I have used. I have a console gamer background so I will always prefer the PC controllers that cater towards that. This was everything I was hoping for.