When people think of miniature computers, they almost always picture ultrabooks, netbooks, or other tiny PCs with an integrated screen and keyboard.
But those aren't the only options out there.
In fact, thanks to modern technology (and open source operating systems like Android) you can get a miniature computer that is just slightly larger than a USB stick.
The Android Mini PC RK3188 is one of those mini PCs, and while it's unlikely that you would use it for heavy workloads, for a lot of applications it more than gets the job done.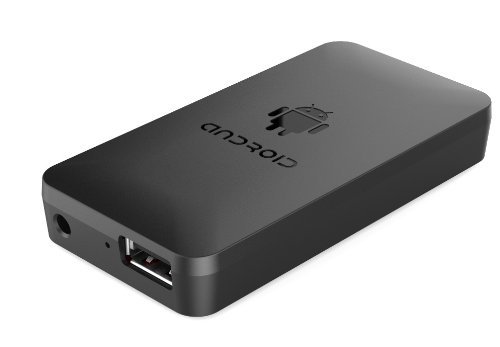 Visit RK3188 offical website
Initial Impressions
Most often used for a media PC (especially thanks to its compact design and built-in HDMI capabilities), the Android Mini PC RK3188 has become a go to choice for those looking to better manage all of their digital media.
Super small and compact, you're going to be able to take advantage of a quad core 1.6 GHz processor, 2 GB of RAM, and 8 GB of flash memory – all squeezed into a form factor even smaller than your wallet!
Not the most powerful thing in the room, it's definitely more than enough for media streaming, data management, video gaming, and a handful of other common operations.
Pros
We mostly used the Android Mini PC RK3188 as a replacement HTPC (home theater PC), and came away very impressed with its capabilities. The Android operating system was a breeze to use and is optimized for gigantic screens like our television and thanks to the HDMI out and USB 2.0 port this device has a lot of flexibility.
The wireless signal was strong with this Android mini PC, and we were pretty impressed that it included the 802.11 b/g/n bands. Everything is on board in that same small form factor that we mentioned above, making it perfect for installation right behind your television.
Cons
The only problem that we have with the Android Mini PC RK3188 is that there are other options out there that do almost the exact same things for less money, with the Chromecast at $35 leading the charge.
Even still, this isn't exactly a mini PC that threatens to break the bank account. Check it on Amazon for the latest price.
Final Verdict
For what it is, this is definitely one of the better Android-based mini PC solutions out there. With 4.2 Jelly Bean installed right out of the box you won't be missing any functionality, and the integrated Bluetooth, DLNA, and Miracast capabilities turn this inexpensive and tiny PC into a powerhouse HTPC with no effort whatsoever!