The brand-new Galaxy Tab S 10.5 tablets from Samsung are some of the most perfectly designed pieces of hardware the major Korean manufacturer has ever rolled off of their assembly lines.
Already grabbing up rave reviews (even though it's only been available for less than a month) and touted as a "real deal iPad killer", there's a lot to love about these devices – though they aren't quite perfect right out of the box.

Check out our favorite Galaxy Tab S 10.5 accessories below!
Galaxy Tab S 10.5 Cases and Covers
MoKo Case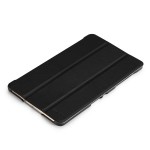 There's no shortage of cases out there manufactured specifically for this flagship tablet, but this is widely considered to be the very best of the bunch.
With more than 850+ glowingly positive reviews on Amazon, this is a super lightweight shell style case that will protect your tablet and double as a "kickstand" so that you can enjoy your media without having to hold it in your hands all the time.
IVSO Ultra-Thin High Quality Bluetooth Keyboard Portfolio Case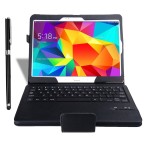 If you don't plan on using your new tablet strictly as a media consumption tool, but instead plan on using it to get a little bit of work done, you're going to want to look into this case.
Not only is it a capable solution as far as protection is concerned, but it also offers a fold up Bluetooth keyboard inside one of the case flaps. You can use this like a miniature laptop whenever you need to get some work done after hours or on the go.
Galaxy Tab S 10.5 Screen Protector
ArmorSuit MilitaryShield Screen Protector
Military grade screen protectors through and through, there is a reason why elite military units (including those heading out into war zones all over the globe) choose to use these kind of screen protectors to protect their high-end technology.
The kind of screen protectors that will take a licking and keep on ticking, you'd be hard-pressed to find any screen protectors out there that offer the same qualities as far as:
Fingerprint elimination
Antireflective properties
The ability to protect the screen from dents and dings
And the ease of installation
…quite the way that these do.
If you aren't looking for military grade protection from a screen protector (or aren't willing to pay all that much for some screen protectors you might have to replace later down the line), this is the kind of product that you'll want to lean on.
Not quite as dents or durable as the other screen protectors outlined above, there are pretty close – and cost a fraction of what you would be expected to pay for top-of-the-line protection!
Galaxy Tab S 10.5 Essential Kit
Lastly, you'll want to consider purchasing a "bundle" of handful accessories that really let you do just about anything you want with your new Galaxy Tab S. This little collection of accessories comes with an OTG cord for plugging in a hard drive or flash storage for media, a travel charger that you can use on the move, and a mini HDMI cord that allows you to "throw" your screen on your tablet to a television that comes with HDMI input.