Websites have become an important tool in our modern lives. They allow us to connect with people and businesses all over the world, and access essential information quickly and easily. With so many types of websites available today, it can be difficult to keep track of what each offers.
Crafting a website to fit one of the popular types of sites can be easy when you understand the guidelines and features associated with each category. By recognizing the most common types of websites, you can create an effective website that meets your needs and stands out from the rest.
In this article, we're going to take a look at the major types of websites and see what features they include.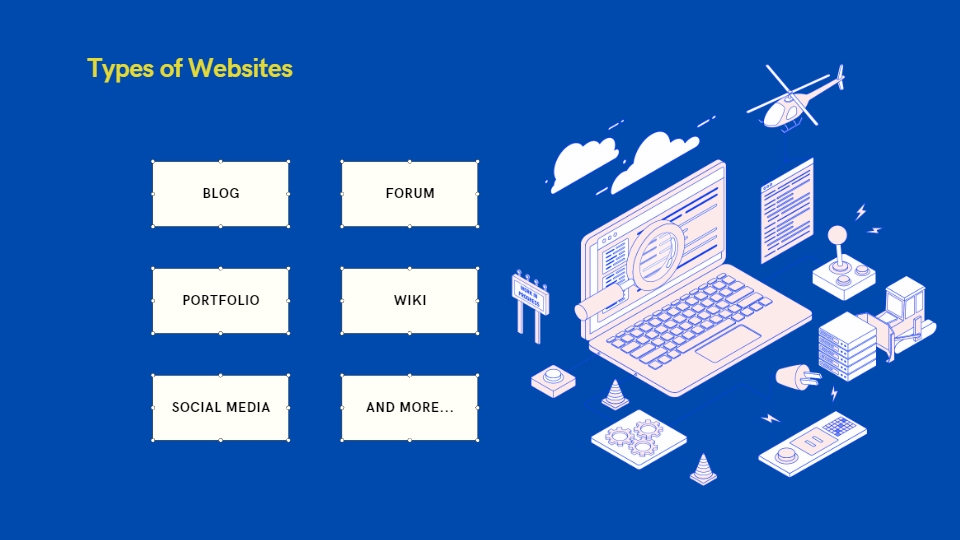 Blog
A blog (short for "weblog") is a type of website that features a series of written entries, called "posts," that are typically displayed in reverse chronological order (with the most recent post appearing first). The purpose of a blog is to provide a platform for an individual or organization to share their thoughts, ideas, and experiences with a larger audience through text, images, and other multimedia content.
Some common features of a blog include:
A homepage that displays a list of recent posts
An archive page that allows users to browse older posts by date, category, or tag
A search bar that allows users to search for specific posts or topics
A comments section that enables readers to leave feedback and engage in discussions with the author
A "About" or "Bio" page that provides information about the blog and its author(s)
Social media links that allow readers to follow the blog and share posts on their own profiles
Advertisements or sponsored content, which can be used to monetize the blog
Blogs can cover a wide range of topics, from personal musings and creative writing to news, politics, and expert analysis on specific industries or fields. Some blogs are run by a single individual, while others are collaborative efforts by a group of writers or editors.
Blogs often rely heavily on content marketing techniques such as SEO (Search Engine Optimization) and social media promotion in order to attract new visitors.
Agency Website
An agency website is a type of business website that features information about the services offered by a marketing, advertising, or PR agency. Typical components may include:
An "About" page that provides an overview of the company and its history
Information on the different types of services provided by the agency (including case studies and examples)
A team page that introduces the agency's employees, including photos and bios
A portfolio of previous projects
Information on pricing and policies
Social media links and contact information to allow potential clients to get in touch with the agency
Agencies typically use their website to promote themselves as thought leaders in their field through blog posts, white papers, infographics, and other content marketing strategies.
Ecommerce Website
An ecommerce website, or an "online store," is a type of website that allows businesses to sell products or services directly to consumers over the internet. An ecommerce website is to provide a platform for businesses to reach a wider audience and make it easy for consumers to browse and purchase products or services online.
Examples include online stores, banking sites, travel sites, real estate listings and more.
Some common features of an ecommerce website include:
A catalog or list of products or services that can be sorted by category, price, or other attributes
Product pages that provide detailed information and images about individual products or services
A shopping cart that allows customers to add items to their order and view the total cost before checkout
A checkout process that captures customer information and payment details
An order tracking system that allows customers to view the status of their orders
Customer reviews and ratings that provide feedback about products or services
A "Contact Us" or "Help" page that provides information on how to reach the business or get assistance with orders
Ecommerce websites can sell physical or digital products, or they can offer services such as consulting, coaching, or booking appointments. Many ecommerce websites also offer features such as personalized recommendations, wish lists, and email newsletters to help businesses build customer loyalty and drive sales.
Social Networking
A social networking website brings people together by allowing them to connect with others who share similar interests, backgrounds, or activities. It is to provide a platform for people to build relationships, share experiences, and exchange information with one another.
Some common features of a social networking website include:
A profile page that displays information about the user, such as their name, location, interests, and contact information
A news feed or timeline that displays updates, photos, and other content shared by the user's connections
A messaging or chat system that allows users to communicate with one another in real-time
A search bar that enables users to find other users based on specific criteria, such as name, location, or interests
Groups or communities that allow users to connect with others who have similar interests or backgrounds
An event calendar that allows users to create and invite others to events or activities
A notification system that alerts users to a new activity, such as friend requests, messages, or comments on their content
Social networking websites can be used for professional networking, dating, or simply staying in touch with friends and family. Some examples of popular social networking websites include Facebook, Twitter, LinkedIn, and Instagram.
Portfolio Website
A portfolio website showcases the work or achievements of an individual or organization. The purpose of a portfolio website is to provide a platform for displaying and promoting creative or professional skills and talents and to make it easy for potential clients or employers to learn more about the individual or organization.
Some common features of a portfolio website include:
A homepage that provides an overview of the portfolio and its creator
A gallery or list of work samples that can be sorted by category, date, or other attributes
Detailed project pages that provide in-depth information and media about specific projects
A resume or CV that outlines the creator's education, experience, and skills
A "Contact" or "Hire Me" page that provides information on how to get in touch with the creator or inquire about their services
Testimonials or client reviews that provide feedback about the creator's work
Social media links or contact information for connecting with the creator on other platforms
Portfolio websites are often used by artists, designers, photographers, writers, and other creative professionals to showcase their work and attract new opportunities. They can also be used by individuals looking to highlight their professional achievements or by organizations to promote their products or services.
Forums
A forum, also known as a "message board," allows users to post messages and participate in discussions on a particular topic or subject.
Forums allow users to share thoughts and ideas about any given topic among peers in a public or private setting depending on preferences set by the forum's administrators or moderators who oversee activity on the site regularly.
Some common features of a forum include:
A list of categories or forums, each with a specific focus or theme
Threads or topics that contain a series of messages, usually organized in chronological order.
A search bar that allows users to search for specific threads or keywords
A user profile system that displays information about each member, such as their username, location, and number of posts
A reputation or rating system that allows other users to provide feedback or recognition to helpful or active members
A private messaging system that enables users to communicate with one another directly
Moderation tools that allow administrators to manage content and enforce rules
Forums can often be found associated with larger networks such as Reddit or even dedicated fan pages like those devoted to particular films or television shows. The topics discussed can range from academic coursework all the way through recreational activities – allowing users to stay connected with one another no matter where they live!
Service Providers
A service provider website provides services to its users. These services can range from streaming content, such as music or videos, to providing online tools and resources for completing tasks or learning new skills.
Some examples of service provider websites include streaming platforms like Netflix and Hulu, online educational resources like Khan Academy and Coursera, and productivity tools like Asana and Trello.
For some businesses, the website is their all-in-one source for providing what customers seek, whether it be entertainment or a specific service. Companies like Netflix, DuckDuckGo, and Google Translate have streamlined their platforms to make them user-friendly one-stop shops for everything from movies and shows to search engines and online tools.
Some common features of service provider websites include:
Account functionality: Many service provider websites require users to create an account and log in to access the services offered.
Subscription-based access: Some service provider websites offer their services on a subscription basis, where users pay a fee to access the services for a certain period of time.
Personalization: Service provider websites often allow users to customize their experience, such as by creating a personal profile or setting preferences.
Search and navigation: To help users find the services they need, service provider websites usually include search and navigation features to help users find what they are looking for.
Customer support: Service provider websites often have customer support resources available to help users with questions or issues related to the services they offer.
Crowdfunding Website
A crowdfunding website is a type of platform that allows individuals or organizations to raise money for a specific project or cause by soliciting small contributions from a large number of people, typically via the internet. The purpose of a crowdfunding website is to connect people who have ideas or projects that they need funding for with people who are interested in supporting those ideas or projects.
Some common features of crowdfunding websites include:
Campaign pages: Each campaign on a crowdfunding website has its own dedicated page where potential donors can learn more about the project and the people behind it.
Funding goals: Campaigns on crowdfunding websites often have a specific funding goal that they aim to reach within a certain time frame.
Rewards: Many crowdfunding campaigns offer rewards to donors at different levels of giving. These rewards might include things like a thank-you note, a copy of the finished product, or a special experience related to the project.
Payment processing: Crowdfunding websites usually have built-in payment processing systems to handle the transactions between donors and campaign creators.
Social sharing: Crowdfunding websites often have features that make it easy for campaign creators and donors to share the campaign with their friends and followers on social media.
Some examples of popular crowdfunding websites include Kickstarter, Indiegogo, and GoFundMe.
Wiki
A wiki is a type of website that allows users to create, edit, and link pages of content to create a collaborative knowledge base.
A wiki's main purpose is to be an open platform for people to share information and collaborate on projects. By leveraging the power of collaborative web design, users can quickly build up comprehensive, reliable sources of information on any number of topics. Whether it's a Wikipedia article about the history of the French Revolution or a product review from a user forum, wikis offer countless opportunities for groups of people to work together on creating valuable documents.
Some common features of a wiki include:
A revision history that tracks changes to pages over time and allows users to view or restore previous versions
Links to other pages within the wiki or external websites that provide additional context or related information
A user system that tracks contributions and allows users to discuss or collaborate on pages
A page editor that enables users to create and edit pages using a simple markup language or a visual editor
Moderation tools that allow administrators to manage content and enforce rules
Wikis are often used as a reference tool or for collaborative projects, such as team documentation or community-driven encyclopedias. Some popular examples of wikis include Wikipedia and Wiktionary.
Event Website
An event website is specifically designed to provide information and facilitate the planning of events, such as conferences, festivals, concerts, or meetings. The purpose of an event website is to centralize all the necessary information and resources for attendees, organizers, and speakers in one place, and to make it easy for people to register, plan their participation, and stay informed about the event.
Some common features of an event website include:
A registration or ticketing system that allows attendees to sign up and pay for the event
A schedule or itinerary that outlines the events, sessions, and activities that will take place during the event
A list of speakers, sponsors, or exhibitors that provides information about the participants and their contributions
Maps or directions that help attendees navigate to the event location
A FAQ or help page that provides answers to common questions or issues that attendees may have
Social media links or a newsletter sign-up that allows attendees to stay updated and connected with the event
Integration with event planning and management tools, such as scheduling or survey software
Event websites can be used for a variety of purposes, such as promoting and selling tickets to a concert, providing information about a conference or trade show, or facilitating the registration and planning of a charity walk or fundraiser.
Landing Page
A landing page is designed to direct users to a specific action, such as filling out a form, making a purchase, or signing up for a newsletter. A landing page focuses the user's attention on a specific goal and makes it easy for them to complete the desired action. Landing pages are often used as part of a larger marketing campaign to drive traffic to a specific product, service, or offer.
Some common features of a landing page include:
A clear and concise headline that communicates the main benefit or value proposition of the page
A single, prominent call-to-action that tells the user what they need to do next, such as "Sign Up," "Buy Now," or "Learn More"
A brief, persuasive description of the product or service that highlights its features and benefits
Images, videos, or other media that help illustrate the product or service
A form or checkout process that captures the user's information and completes the desired action
Social proof or customer testimonials that provide credibility and build trust
A navigation bar or menu that allows users to explore other areas of the website, but is minimized or de-emphasized to keep the focus on the main goal
Landing pages are often used in conjunction with paid advertising or email marketing campaigns to drive targeted traffic and maximize the chances of converting visitors into customers.
Directory Website
A directory website is a type of website that lists and categorizes a wide range of businesses, organizations, or other entities based on a specific theme or focus. The purpose of a directory website is to provide users with a comprehensive and easy-to-use resource for finding and comparing different options in a particular field or location.
Directory websites can focus on a wide range of topics, such as local businesses, restaurants, hotels, health providers, or tourist attractions. Some popular examples of directory websites include Yelp, TripAdvisor, and Yellow Pages.
Some common features of a directory website include:
A search bar or filters that allow users to narrow down the list of entries based on specific criteria, such as location, category, or rating
A list or map view that displays the entries, along with key information such as name, address, phone number, and website
Detailed profiles or listings for each entry that provide additional information, such as descriptions, images, reviews, or contact details
A rating or review system that allows users to provide feedback and rate the entries
A submission form or process that allows businesses or organizations to add or update their own listings
A "Contact Us" or "Help" page that provides information on how to get in touch with the directory or report errors or updates
Advertising or sponsored listings that allow businesses to pay for higher visibility or more prominent placements