Foxit Reader is a free PDF reader that can be downloaded for Windows, Mac OS X and Linux. It has many features that make it an attractive choice for your document viewing needs.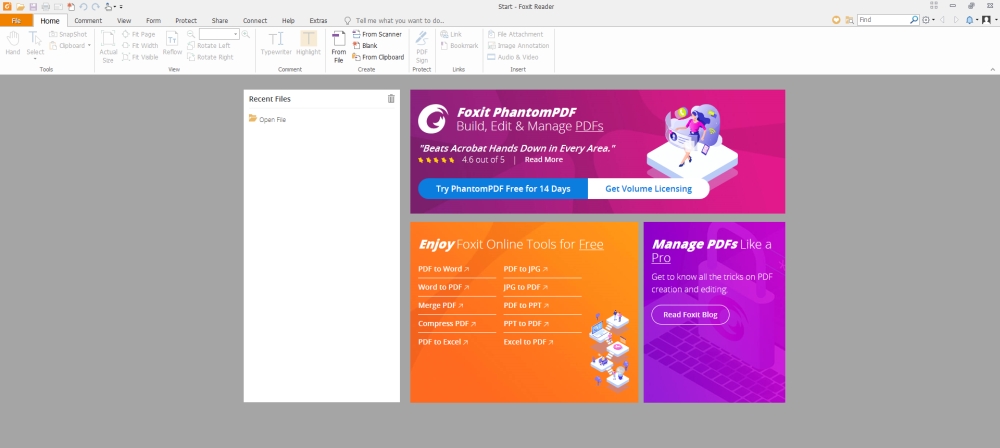 Foxit Reader offers an intuitive interface that enables both new and veteran computer users to work quickly and easily with scanned paper documents in order to share them electronically or make digital copies for storage on another device.
Features
Following are the best Foxit Reader features you might not know about!
Foxit Reader can password protect PDF files. This is useful for confidential documents or to prevent teammates from editing your work.
It's portable, so you don't need to install it on a desktop machine if all you're looking for is reading and viewing purposes only (i.e., no editing).
You can annotate PDFs by adding comments, text boxes, highlight, underline etc. – this function makes up one of the best features in our opinion!
The speed at which Foxit Reader opens PDFs is really fast thanks to its quick launch feature!! If you just want to open a single document without importing them into an archive, then use "Quick Launch".
You might not know that you can copy and paste text from PDFs into Word, PowerPoint etc. You just need to highlight the desired content.
Foxit Reader has a built in translator (you can translate an entire document or selected paragraphs) for those who are unsure of what something says in another language.
One of our favorite features is the "view with pen" – if you want to check out exactly how your edits will look before committing then this feature helps by making changes on screen as they would be seen through a kindle or tablet's display.
Foxit reader also supports .txt files so it's not only limited to reading pdfs! It doesn't matter if it's rich text format (.rtf), plaintext (.txt) or Microsoft Office (.doc, .xls, etc).
You can customize the reading experience with a variety of fonts and colors. It even has its own font!
One last thing you might not know: Foxit Reader is FREE!! Download it now at foxitsoftware.com/reader in order to make your next PDF read more enjoyable!
Hotkeys
| | |
| --- | --- |
| Alt + 1 | Bookmark |
| Alt + 2 | Full Screen |
| Alt + 3 | Hand Tool |
| Alt + 4 | Zoom Out Tool |
| Alt + 5 | Zoom In Tool |
| Alt + 6 | Select Text |
| Alt + 7 | Snapshot |
| Alt + 8 | Typewriter |
| Alt + F8 | Reset Toolbars |
| Ctrl + 0 | Open File |
| Ctrl + 1 | Actual Size |
| Ctrl + 2 | Fit to Page |
| Ctrl + 3 | Fit Width |
| Ctrl + C | Copy |
| Ctrl + F | Find Text |
| Ctrl + K | Preferences |
| Ctrl + M | Zoom To |
| Ctrl + Num (Minus) | Zoom Out |
| Ctrl + Num (Plus) | Zoom in |
| Ctrl + P | Print Document |
| Ctrl + Q | Exit Foxit Reader |
| Ctrl + Shft + Minus | Rotate CounterClockwise |
| Ctrl + Shft + Plus | Rotate Clockwise |
| Ctrl + Shft + S | Save As |
| Ctrl + Shft + W | Close All |
| Ctrl + W | Close File |
| Ctrl+A | Select All |
| End | Last Page |
| F3 | Find Next |
| F8 | Hide Toolbars |
| Home | First Page |
| Left Arrow | Previous Page |
| Right Arrow | Next Page |
| Shft+Ctrl+N | Go to Page |
| Shft+Space | Page Up |
| Space | Page Down |