Supercell rolled out Clash Royale's latest update today, on September 19th with many new features and balance changes.
New Tournament Changes
New tournament mode
Besides the traditional tournament we have been familiar with, Supercell introduced a new mode called Challenges with 2 types. It keeps the same rules about level caps and adds a new rule that unlocks the top prize with 12 wins and kicks you out of the tournament with 3 losses.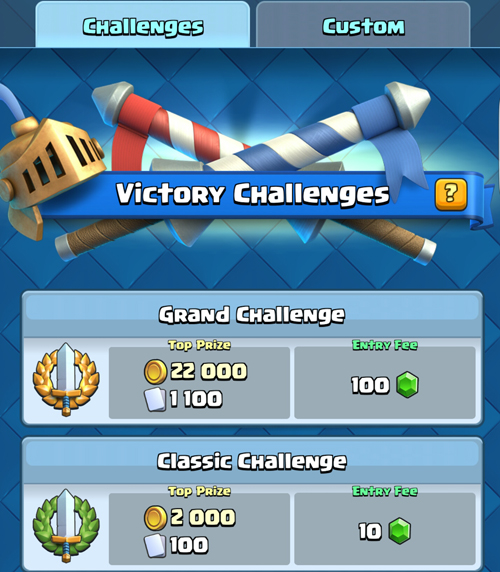 Classic Challenge. 10 Gems to enter, top prize is 2,000 Gold and 100 cards.
Grand Challenge. 100 Gems to enter, top prize is 22,000 Gold and 1100 cards.
Current tournaments revamped
Gem prices and prizes are reworked in Tournament creation.
Four tournament setups are setup by default for quick and simple creation.
New Chest Types
Two new chest types are introduced. They can be won from battle and bought in the Shop.
Legend Chest
As the name suggests, there will always be a legendary card when you open this chest. There is no change regarding legendary card rop rate as far as I know.
Epic Chest
It will contain only Epic cards.
New Cards
There will 4 new cards. One was revealed to be Mega Minion, a combined of 3 minions but with better status. Regarding the other 3, one new card will be released every 2 weeks.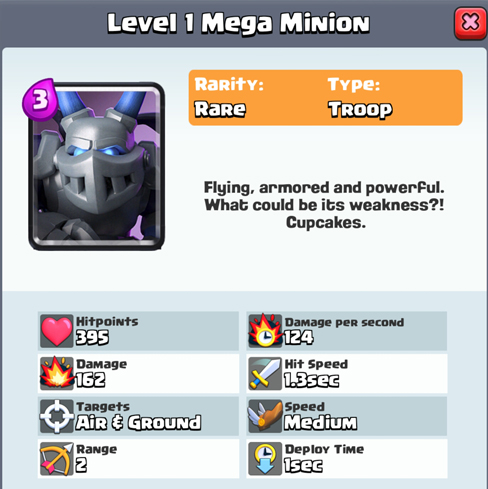 The other 3 were leaks; they are Inferno Dragon, Graveyard Spell and Ice Golem. Inferno Dragon has similar attack to Inferno Tower, which stacks damage over time. Graveyard Spell can spawn skeleton at any place in a map. Ice Golem is building-target troop and explode when destroyed, which can slow nearby enemies.
Social Feature.
Friend System is introduced this time. Now each player has a friend list. Friends can battle against each other in Friendly Battle and view each other's battles.
New Balance Update
Giant
His damage is decreased by 5%. This doesn't change much as he is still as powerful when it comes to destroying tower and lure enemies.
Rage
Elixir cost is reduced to 2, effect is decreased to 30%, and duration  is decreased by 2 seconds. It will be used much more.
Lumberjack
Similar to Rage's change, his Rage effect is decreased to 30% and duration is decreased by 2 seconds.
Mirror
Mirror card now can clone card with 1 level higher than its own level, even in Tournament. You will now see lv10 Common, lv8 Rare, lv4 Epic and lv2 Legendary cards.
Lightning
Lightning now has stun effect for 0.5 second. It now can reset Sparky and Inferno's attacks besides Zap.
The Log
It can push back all ground troops. A legendary card should be able to do this to make it feel special, right? Even giant, golem, and pekka cards can be pushed back.
Bomber
His hitpoints are decreased by 2% and his damage is increased by 2%. It is not much of a change.
Shop Offers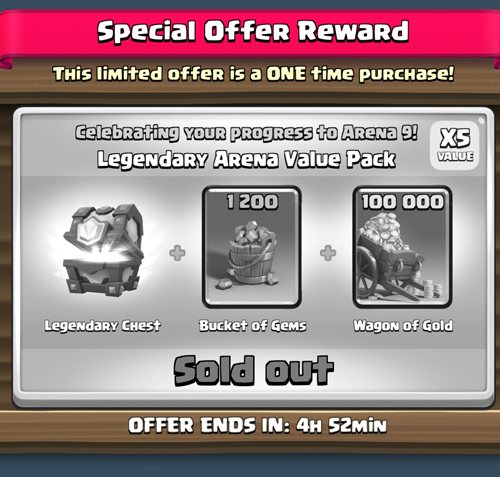 To congratulate this change, Supercell didn't forget to this chance to make money by offering a package with only $10. This package is different to different players. I took the bait and can no longer call myself a free-2-play type in this online game.
Others
Some new UI tweaks such as battle's ending scene
Ability to mute opponent's emoji during battle
New Achievements