The race to offer the best mobile gaming experience is heating up, and it's clear that both Intel and AMD are willing to go the extra mile to ensure their processors are at the forefront of this competitive market. On Tuesday, May 10, Intel held its annual Vision event, where it unveiled a new range of processors known as the 55W HX-series CPUs. These CPUs are part of Intel's 12th-gen family, and they're designed to offer the highest possible performance in a mobile form factor.
The HX-series CPUs are likely to be significantly more expensive than their predecessors. However, for power users who need the absolute best performance from their laptops, the HX-series CPUs should be well worth the price premium.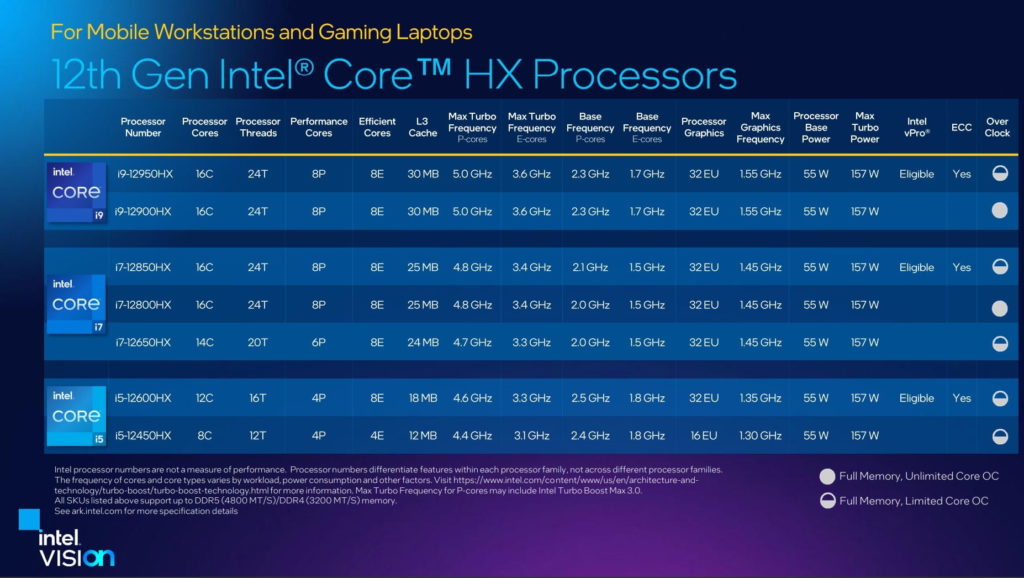 Intel's new range of processors, the HX-series, offers the highest performance possible in a mobile form factor. The flagship Core i9-12950HX is the first 16-core laptop CPU ever, and it comes with a 55-watt power limit.
Intel's Core i5-12450HX is a mobile CPU that offers a 4.4GHz max boost clock and eight cores. It still has access to 55W to power the CPU, making it a formidable competitor in the mobile market. With its high clock speed and eight cores, the Core i5-12450HX should be able to handle even the most demanding mobile tasks with ease. AMD's Dragon Range chips may offer similar performance, but they will likely be limited by their lower TDPs.
According to Intel, the new chips provide a 17% improvement in single-thread performance and up to a 64% improvement in multi-thread performance compared to the last-gen Core i9-11980HK. However, as with any new processor release, it is always best to wait for independent third-party benchmarks before drawing any conclusions about real-world performance. Given that the new processors are based on the same architecture as the last-gen chips, it is likely that the actual performance difference will be less than what Intel is claiming.
While raw CPU performance is always important, it's not the whole story when it comes to gaming laptops. That's because a lot of the performance in games comes down to the GPU, and specifically the kind of graphics processor that's included in the laptop. So while Intel's new Core i9-12900HX mobile CPU might be capable of some impressive frame rates, we won't really know how it performs until we see it in action in a gaming laptop. The same goes for any other mobile CPU on the market.
Intel said that the Core i9-12900HX when used with a mobile RTX 3080 Ti is capable of producing up to 128 fps in Far Cry 6 and up to 149 fps in Forza Horizon 5.
The new processors from Intel come with a boost in core count, but also offer features that are exclusive. These include support for DDR4 and 5th Gen Core processor technologies like Error Correcting Code (ECC) memory or PCIe v5 interface Speed up to 4GB/s allowed by these chipsets! You can get them scientifically certified too – just check out what they're capable of when using their ISV certification which will help improve your workflow even more so than before.
The arrival of the HX chips is expected shortly, but Intel has not yet provided a release date. The firm continued to show off numerous devices with the new chips, including the Lenovo Legion 7, MSI GE77 Raider, and Dell Prevision 7670.