The internet has been a game-changing tool for us, providing a variety of functions. By using a modem, we are able to search for information and visit sites of interest. Furthermore, we can use a web connection to communicate with friends and family, and even make new ones. With the emergence of widely-used applications such as Mozilla Firefox, accessing the internet has become easier than ever.
We may experience some issues when using this web browser as there are some fluctuations that can prevent us from doing so. One of the most common problems is the XULRunner Error, which is an issue that has been reported by a number of users. This error can cause the program to crash or not function properly.
Mozilla Firefox, like many other applications, needs to be kept up to date. This can be done manually or, for convenience, automatically. Automatic updates are enabled by default, but they can sometimes cause problems such as the XULRunner Error. This error can be caused by a range of issues, including outdated versions of Firefox, corrupted files, or invalid registry entries.
XULRunner Error is a common issue when updating applications. It is caused by a variety of factors such as a weak internet connection, malfunctioning hardware, or the application being turned off. These issues can prevent Mozilla Firefox from completing the update, resulting in the error.
The error can be fixed by following a few simple steps. It is believed that the error is caused by the incomplete installation of updates. In order to resolve the issue and prevent further interruptions, it is necessary to re-install the application. This will provide us with a new version of the program with which we can install the necessary updates.
Uninstall Current Firefox
To do a clean install of the application Mozilla Firefox, we need to open Apps & Features and locate the application. We should then uninstall it, but if we want to keep our personal files within the program, we must be cautious and select the option to retain our files.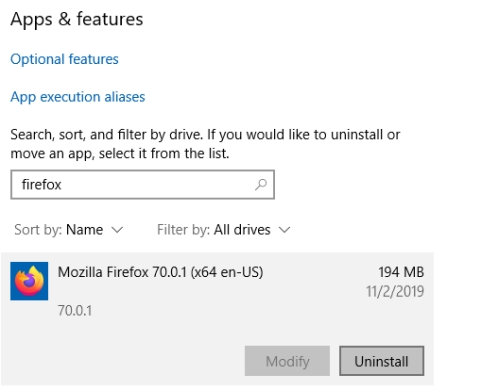 Download and Install the Latest Version
After uninstalling, locate the folder of the application then delete this folder to prepare for the rebooting process. We can now download a new application of Mozilla Firefox. Visit https://www.mozilla.org/en-US/firefox/new/ and download the latest version then install it.
Browsers such as Mozilla Firefox are incredibly useful, however, it is important to be aware of the solutions for common problems that may arise so that our browsing experience remains uninterrupted. Knowing how to troubleshoot these issues can help us access the content we want without any issues.