Internet has been a useful tool for us because of its various uses. Through this modem, we can look for different information and access sites that we want to visit. We can also use this as a way of communicating with the people we love as well as in making friends to other people. There has been a lot of applications in which we can access to the internet. This includes the Mozilla Firefox, one of the most popular browsers in the world.
However, there are some fluctuations that we can encounter that prohibits us from using this tool. One problem that has been cited is the XULRunner Error.
Using the Mozilla Firefox, like some other applications, requires an update. Some has an automatic install updates to the applications to make it easier and less work to do. It has been set already however, as this installation of updates occur, we can experience some problematic issues like the XULRunner Error.
This error primarily resulted because of the updates that the application is required to do. During the updates, there are several factors that can affect the installation such as weak connection to the internet and the gadgets, or the system of the application had turned off. Because of this, the Mozilla Firefox cannot continue the update. Thus, the error occurs.
But the error can be solved through simple steps. It has been stated that the cause of the error is because of the unfinished installation of updates. So, in order to officially stop the interruption, we need to clear out the system and download the application again. With this, we can have a new program where we can install updates.
Uninstall current Firefox
To clean install the application, we just need to open Apps & Features and look for the Mozilla Firefox. Then uninstall, but if we want to retain the personal files that is within the program, we need to be careful in doing so.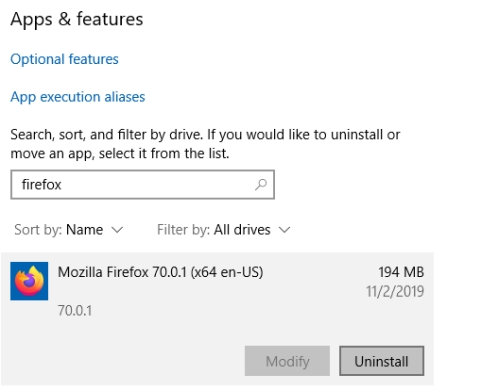 Download and install the latest version
After uninstalling, locate for the folder of the application then delete this folder to prepare for the rebooting process. We can now download a new application of the Mozilla Firefox. Visit https://www.mozilla.org/en-US/firefox/new/ and download latest version then install it.
It is indeed helpful if we have browsers like the Mozilla Firefox. But in case of errors like the one mentioned above, we must know the simple steps to solve for that kind of issues so we can enjoy browsing whatever we like.