The Lenovo Legion Go, which was revealed at IFA 2023, seems to be a strong competitor to the Steam Deck and ASUS ROG Ally. While the Nintendo Switch is usually not greatly impacted by the release of handheld gaming PCs, it still poses as another rival.
Why all the buzz about the Lenovo Legion Go? Here are the reasons why it stands a chance to carve out its place in the crowded market.
Lenovo's Legion Go is turning heads with its combo of dedicated gaming handheld vibes and premium tablet feels. Not only does the screen make games pop, but it's also great for other activities.
The nifty part? The controllers can be taken off, and there's a kickstand to boot! Sure, it's a tad on the bulky side for a regular tablet, but those on the go might dig its design.
Performance is top-tier, particularly with high-res games. But if pure gaming's your jam, the Steam Deck's the champ. That said, for the multitaskers out there, the Legion Go's charm is undeniable.
That Screen Though!
The first thing you're gonna notice? That stunning screen. The Legion Go boasts an 8.8-inch display. To give you a perspective, it's roomier than the 7-inch ones on the Steam Deck and ROG Ally.

Packed with Quad HD+ resolution (2600 x 1600), it's like a visual treat, full of rich, vibrant colors, whether you're gaming or app-hopping. And with a 144Hz refresh rate, high-speed games appear super smooth.
Add the 97% DCI-P3 color gamut support, and you've got colors popping like never before, even though the brightness matches the 500 nits of the ROG Ally.
Absolutely, the Legion Go stands out with its spacious screen and vivid clarity, visible to anyone who lays eyes on it.
Many have wished for a handheld that could take on the role of a tablet, being a go-to gadget for browsing the web, checking emails, or watching videos. Sadly, many handhelds out there just haven't been up to the task.
Enter the Legion Go, breaking through the norm and offering a true tablet-like experience — just overlook its chunkier build.
Say Hello to FPS Mode!
Ever heard of the Nintendo Switch's detachable Joy-Cons? The Legion Go controllers have that vibe. Slide them off, and you can transform the right controller into a mouse-meets-joystick for FPS games.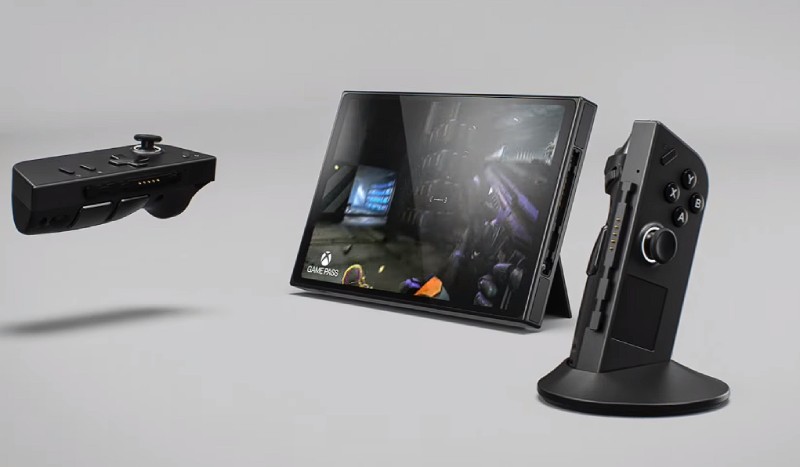 It's fresh and sets the Legion Go apart. Plus, using this controller as a mouse, especially in menus, feels as natural as using your desktop mouse.
Power Packed Battery Life
While the Steam Deck and Asus ROG Ally sport a 40Wh battery, the Legion Go steps up with a 49.2Wh one. On paper, it promises a longer playtime. But of course, real-life gaming sessions will give the final verdict.
There's a catch: the device's bigger screen and more robust processor could eat into that extra battery juice. Lenovo estimates about two hours of playtime for gaming, but if you're just browsing or watching videos, you might squeeze out up to eight hours.
And here's the cool part: Lenovo's software offers thermal profiles for efficient performance. If you think the standard 32W mode is draining your battery too quickly, you can easily switch to energy-saving modes like 21W or even the ultra-conservative 8W. But hey, if you're near a power source, go all out and crank it up to 42W!
Hardware That Impresses
When it comes to handhelds, the golden question is always about how well games perform in them. The Legion Go is no exception. Here's a delightful piece of info: the Legion Go is a powerhouse.
Games like Rocket League and Vampire Survivors ran smoothly. The credit? AMD's Ryzen Z1 is designed just for handheld gaming. 
And with that fantastic 8.8-inch QHD screen, immersive gaming is guaranteed. Yes, you might tweak resolution and settings for battery life, but that's the norm with handhelds.
Size Matters, and So Does Weight!
Big screen lovers, rejoice! The Legion Go's larger screen gives it a robust feel but remains ergonomic. It's bigger than the ROG Ally and Steam Deck, but the balance is just right.
Holding it doesn't tire you out, and its weight (1.88 lbs) isn't a burden. Plus, the built-in kickstand and carry case? Sweet additions!
Launching Soon!
Gear up, gamers! The Lenovo Legion Go is hitting the shelves in October 2023.