Technology is a rapidly growing industry, and women have been playing an increasingly important role in its development and growth. Despite this, women are still vastly underrepresented in the tech world, making up only 28% of the total workforce by 2022. This is a huge issue and one that needs to be addressed if we are to truly bridge the gender gap in the tech industry.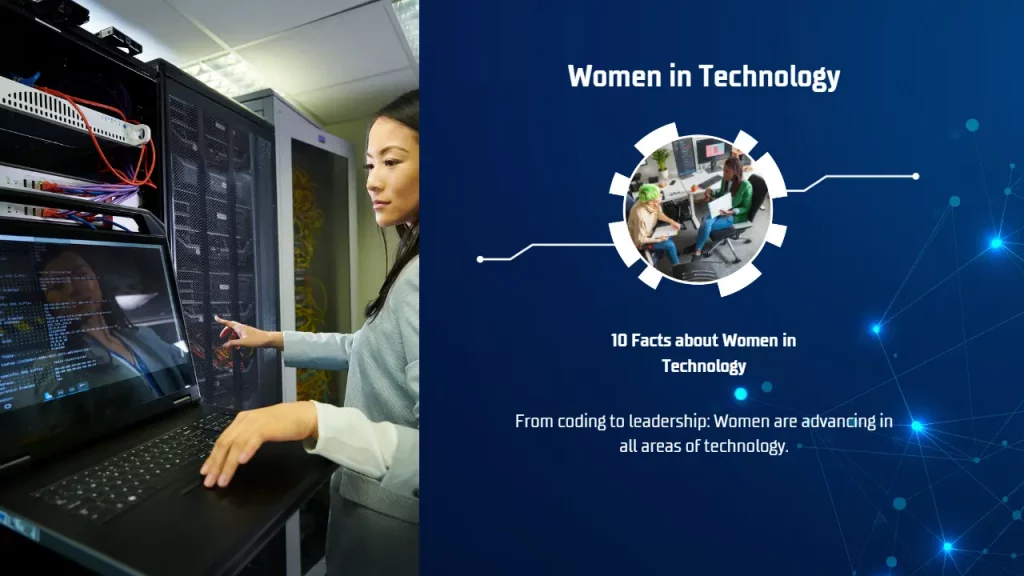 In this article, we will be exploring the facts about women in technology.
Ada Lovelace is known as the first computer programmer. In the 1840s, she wrote programs for the Analytical Engine, a computer that was never actually built. Her work was important in pioneering the development of computers, despite the fact that her computer was never created. She was ahead of her time and is still remembered as a pioneer in the field of computer programming.
Women have been involved in technology since the dawn of computing, but it wasn't until the late 20th century that their involvement began to be truly recognized. Today, women make up 28% of the total tech workforce, and while this number is still low, it is a significant improvement from the past.
American female employees involved in science or technology fields are 45 percent more likely to leave their positions within twelve months than their male colleagues. This significant discrepancy is largely attributed to gender discrimination and the perception of being held to higher standards than their male counterparts in the workplace.
Women in tech are also increasingly taking on leadership roles, with more women than ever before taking on executive positions and heading up tech companies. In 2015, Forbes Magazine listed three of the most influential women in the tech sector: Sheryl Sandberg, Chief Operating Officer of Facebook; Susan Wojcicki, CEO of YouTube; and Marissa Mayer, CEO of Yahoo!. These women have been recognized for their significant contributions to the technology industry.
Bringing internet access to Thailand was a significant achievement, which was largely due to the skill and determination of a pair of female hands. As the first Thai person to use email, Dr. Kanchana Kanchanasut helped her country move into the modern era by providing a necessary service for both businesses and individuals. 
In China, the tech industry is booming and women are leading the charge. According to TechInAsia, Over 55% of new internet businesses are founded by women, with 20-30% of those being startups. This is a remarkable achievement in a country where gender equality has not always been a priority. It is an exciting time for the tech industry in China, as women are taking the lead in the internet workspace.
The pandemic has taken a greater toll on women than men, according to recent findings by TrustRadius. In a survey, 42% of women reported having taken on additional duties at home compared to only 11% of men. It's not unexpected that these extra responsibilities would lead to feelings of burnout; in fact, TrustRadius found that 57% of female tech respondents reported feeling burnt out at work, a significantly higher rate than for their male counterparts at 36%.
Anita Borg, an American computer scientist, believed that women think differently than men. This idea has been the basis for the Institute for Women and Technology and the Grace Hopper Celebration of Women in Computing, both of which were founded by Anita. To further prove her point, AnitaB.org, and ChallengeRocket.com have joined forces to hold Anita's Moonshot Codeathon, an online coding competition open to all people who identify as women.
Cisco, SlideShare, and Flickr are three very successful companies that you may have heard of, and you may even be using their services. Cisco offers Small and Medium Businesses (SMBs) solutions, while SlideShare provides a platform to upload presentations, and Flickr allows users to search for images. All three of these companies have been founded by female entrepreneurs, Sandra Lerner, Rashmi Sinha, and Caterina Fake.
Research shows that diverse teams can lead to better innovation and problem-solving. Having more women in technology can bring new perspectives and ideas to the table.