There are many different types of website platforms. Some, like WordPress, can be difficult to learn and use for beginners because the system is so complex. Other systems like Blogger are much more user-friendly but lack features that power users might need to customize their websites. Flat File CMS offers a solution for both groups of people by being easy to use and still having advanced customization options when you want them.
What is Flat-File CMS?
Flat file CMS is a type of web development where the content management system stores all its data in flat files that are organized by folder. This type of CMS has grown quickly in popularity due to its ease of use and it's flexibility for developers.
The files themselves are usually stored in the same folder as the web pages and scripts that they generate. This architecture has some advantages, but it also has some disadvantages due to its lack of flexibility.
Some benefits of Flat-File CMS:
Flat file CMS is easy to set up.
You can easily add new pages without having to worry about database management.
It's lightweight and doesn't require a lot of resources.
There are no limits on the number of pages you can create or edit.
You don't have to worry about security issues like SQL injection, cross-site scripting, etc., because it uses flat files instead of databases.
It's easier for developers who don't know how to work with databases.
10 Best Flat-File CMS
These flat-file CMS will help you create site without a database.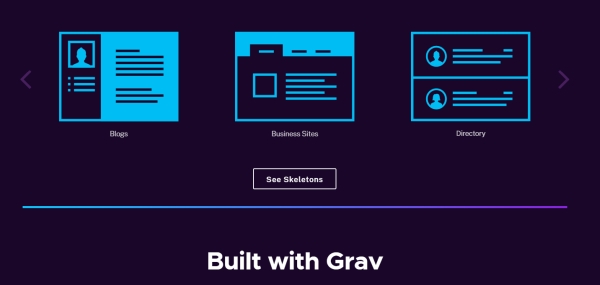 Grav is licensed by MIT and uses Twig language to provide you with results. It is completely focused on simplicity and speed. As such, websites running on this platform are extremely fast, something search engines are testing as we speak. Editing files is simple as well.
October is all about the user interface. It is super-easy to use. The platform uses Laravel PHP framework and has a simple and appealing dashboard. We believe it is ideal for those who want to create websites for their clients.
This CMS is basic in the lack of a better word. It offers a simple user interface and basic functionality. It is designed for users who will create a website offline and then upload it. An interesting fact is that Pico uses the same Twig template as Grav and shares a few same options.
Here we have another simple platform. It is easy to use, obviously, but it also comes with built-in features. For instance, you can use one click backup. The WYSIWYG editor is present as well. All changes can be done easily within seconds.
Flextype was originally designed to replace Monstra (there is no support for this platform anymore). Flextype runs on PHP and uses various plugin API and shortcodes to meet your expectations. Yes, it is a relatively new platform here, but looks promising.
Here we have one of the simplest platforms on the list. There are no complicated processes or steps and you can convert the entire HTML page into this platform and edit it accordingly.
razorCMS is a bit more complex option on our list. It is a mixture of PHP (used for front end part of the site) and angular JS which is used for the core of the website. It does support the Docker installation.
Typesetter has to offer WYSIWYG editor, speed that can reach 8 times better results than WP and also offers jQuery, Bootstrap and CKEEditor. It has been available for a long period of time and it is still a desirable option to go with.
Automad is highly recommended if you want to create your own themes. There is no need to understand PHP and all the files and all the specifics are available in classic .txt files. In addition, caching and search are already built-in.
Kirby is relatively easy to use but extremely popular. They have been cooperating with Mercedes Benz, Smashing Magazine and many others. You need to upload a few files and your site will be alive online. You will need a license for that though.
Conclusion
As you can see here, WP isn't the only option nor is it the best one. Take a look at these 10 alternatives and decide which one meets your requirements the most. Each one has its own perks that will match your goals.