It is a fact that all people are too busy every day, whether tutoring the children for their schoolwork, so many workloads of parents, and various appointments to attend to. Because of this, people do not have the time to search for lost home keys. For those who had to call their partners at work just to bring home an extra key, then it is best to have a smart lock at home. Smart locks contain a variety of benefits for business owners and homeowners.
What is a Smart Door Locker?
A Smart Locker is a lock box that can be used to store valuables in public locations. The device has an RFID tag attached and sends out signals to detect if the object being stored inside has been moved or tampered with, so you don't have to worry about your belongings going missing while you are away from them.
A Smart Door Locker is a device that attaches to your door and unlocks only after it knows you are the authorized user. It will also send alerts if someone attempts to tamper with or open the door, so you can know when there could be an intruder on your property.
Some smart locks require special installation by an expert in order to work properly but this lock does not need anything extra done as long as it has power from a nearby outlet. Once installed, pressing the touchscreen opens doors without having to punch in a code or insert keys into slots which helps save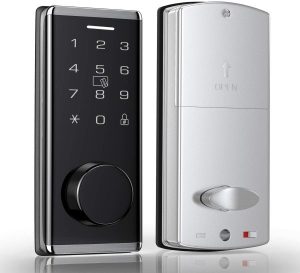 With this door lock, you can lock and unlock with smartphone, keypad, or mechanical Key. It has the latest Bluetooth module which unlocks itself when you take your phone out and come near the door. You can also get in with pre-set digital codes and two keys for backup.
Benefits of Smart Lockers
Home keys are frequently misplaced. In order to prevent finding keys or replacing the locks once tenants move out, it is best to take into consideration locks with keypads. With models including TL 115, people can now be able to unlock the door with the smartphone thru Bluetooth technology. In addition, parents can assign their kids their personal passwords in order to supervise their exit and entry.
Virtual keys provide simple access to vacation rental boarders, aging members of the family, and visiting relatives. Smart locks are an excellent addition to other mobile devices that can be remotely controlled. From smart appliances and smart lights to the home entry feature, smartphones are the future. Smart keys allow people to grant access to a variety of people and monitor who comes out and in of the home every time. By installing the application called Turbolock, users can monitor remotely and control the smart locks at home and allot new passwords when required.
Users can also integrate the smart locks into the home security feature by installing the application onto the mobile or in-home device. If members of the family or house guests are unable to remember to lock their doors after going out, smart locks can instantly trigger the locking mechanism. That is a sign of relief when the homeowner is having a cup of coffee with friends and wondering if they did not remember to lock the door.
If there are house cleaners, guests, or tenants who are not comfortable with this kind of technology, smart deadbolts with the conventional locking mechanism provide the extra way to secure and open the lock. For those who do not want to depend upon Wi-Fi and Bluetooth, select a keypad smart lock that directly keeps the password on the locking system itself. Overall, there are a lot of benefits that can be obtained by using smart locks. Hence, due to the smart lock system, the lives of homeowners just got easier!