Computer mouse pads are a type of computer accessory that can improve your productivity and comfort when using your laptop or desktop. Mouse pads come in many different shapes, sizes, textures, and colors to fit the needs of any user.
In this blog post I will be discussing three different types: ergonomic mouse pads, textured mouse pads, and gaming mouse pads.
3 Different Types of Computer Mouse Pads
Ergonomic mouse pads
If you're looking for something to help with wrist pain while working on your computer all day then an ergonomic mouse pad might be best for you as it offers more room to move than a regular one does.
These mouse pads are usually larger and more squishy, but the bottom is made of hard rubber to make sure it doesn't slip all over your desk.
There are many distinct patterns available, but they all ensure that when utilizing the mouse, the wrist is perpendicular to the table surface. When you hold the wrist and hand as shown, the strain on the carpal tendons in the wrist is reduced.
This can aid in the prevention of carpal tunnel syndrome, a condition caused by prolonged computer usage that places undue strain on the wrists. Many people prefer this type of mouse pad due to its comfort and ability to reduce wrist pain from repetitive movements at work or school.
Amazon Basics Gel Computer Mouse Pad with Wrist Support Rest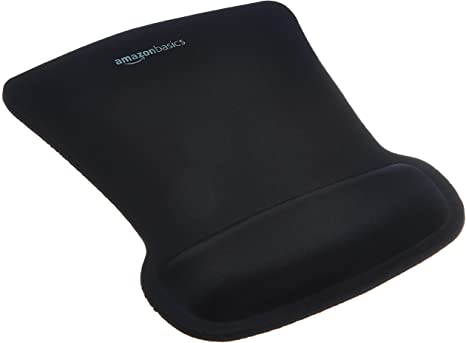 The Amazon Basics Gel Mouse Pad with Wrist Support Rest is the perfect way to avoid carpal tunnel and other repetitive strain injuries that can come from misusing your hands over time. It supports your wrists for maximum comfort while reducing stress, fatigue, and anxiety. Plus you get an excellent tracking surface that provides smooth mouse movements.
The no-slip rubber under the surface grips any desk securely so you won't have to worry about repositioning it during use. The wave design found throughout the pad helps promote proper hand position ergonomically
Textured mouse pads
Another great option is a textured surface which provides extra grip so you'll never have to worry about sliding off the edge again!
If you're looking for something durable that will protect your desktop from scratches and spills then a textured mouse pad might be best for you.
They are usually thin and made out of plastic so they won't slip around if you accidentally kick them under your desk or off the edge of your desk while moving around.
The introduction of a rubberized silicon surface to the steel roller ball sparked the return of the fabric trend. A dust-free, lint-free surface for the mouse to move on, as well as a little cushion for the user
Many people prefer this type of mouse pad due to its ease of use and ability to protect their desk from damage.
Gaming mouse pads
Lastly, there are gaming mice that offer features like extra-wide surface areas, anti-fray stitching, and an anti-slip rubber base that prevents your mouse from sliding off the pad.
If you're looking for something that doesn't slip all over the place when you're trying to game then a gaming mouse pad might be best for you.
These are made out of hard plastic or aluminum so they won't move at all while playing games or working on other projects. Some come with wrist rests built right in so it's very comfortable even after hours of use. The bottom is also usually made of rubber so it won't slide all over the place.
Many people prefer this type of mouse pad due to its ease of use and durability. It's also very easy to clean because most consist of hard plastic or aluminum rather than cloth.
A gaming mouse pad is a fantastic way to improve the look of your computer desk. It's made from plastic and intended to endure. They have pictures or designs on them so users may personalize their style and décor.
Conclusion
If you're not into gaming then a regular hard surface is probably best for you as it will protect your desk from any scratches or spills. No matter what type of computer accessory you need, there are always options out there to help fit your needs! These are just three types I have found so far so if you know of any others please leave them in the comments below!