Nvidia Corporation is a technology company that specializes in designing and manufacturing graphics processing units (GPUs) and system-on-a-chip units (SoCs) for the gaming, data center, and professional markets. Nvidia's products are widely used in various applications such as artificial intelligence, self-driving cars, and virtual reality. Here are ten incredible facts about Nvidia: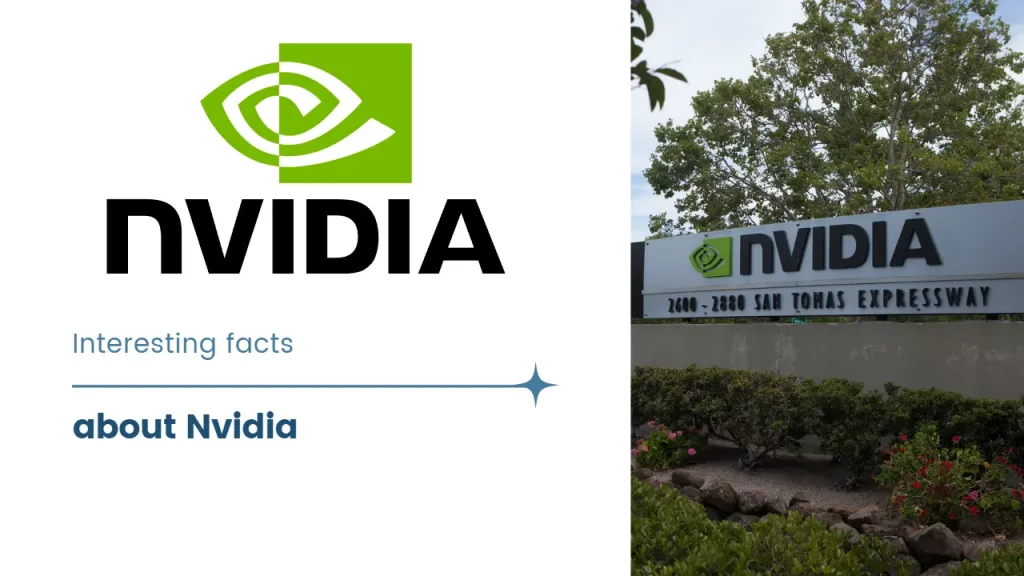 Nvidia was founded in 1993 by Jensen Huang, Chris Malachowsky, and Curtis Priem. They created the name by combining the words "next version" (abbreviated as "NV") and "invidia", the Latin word for envy. This combination of words was chosen to signify the company's ambition to be the "next version" of technology, something that others would envy.
Nvidia invented the GeForce 256 in 1999, which revolutionized the computer graphics industry. The NVIDIA GeForce 256 was the first graphics card to be referred to as a Graphics Processing Unit. The GPU was designed to process multiple calculations simultaneously, which allowed for faster image rendering and improved visual quality. Today, the GPU is an essential component in gaming, video editing, and scientific computing. Nvidia has continued to innovate in this area and now produces some of the fastest and most efficient GPUs on the market.
NVIDIA experienced a major setback when its first chip, the NV1, was released in 1995 and failed to generate the expected revenue. This led to the company having to lay off half of its 80 employees. However, two years later in 1997, the company released the RIVA 128, a GPU that was 400 times faster than any other GPU on the market. This was a major success, with the company selling 1 million chips within four months of its release. This was the first major success for NVIDIA, and it enabled them to continue developing and innovating in the GPU industry.
Nvidia empowers the gaming sector. Nvidia's GPUs are widely used in the gaming industry and power many of the world's most popular video games. Nvidia's line of graphics processing units, known as the GeForce suite, boasts an impressive user base of 200 million gamers – making it the most widely used in the video game industry. Gamers appreciate Nvidia's dedication to creating cutting-edge technology that provides a superior gaming experience. Nvidia's software tools, such as GeForce Experience, enable gamers to optimize their games' settings for the best performance on their hardware.
Nvidia's GPUs are also used to power virtual and augmented reality experiences. Nvidia has stated that Virtual Reality technology will require seven times the computing power of a typical computer's graphics capabilities, as well as extremely fast response times measured in milliseconds. These technologies are rapidly advancing, and Nvidia is at the forefront of developing the hardware and software necessary to create immersive experiences. The company's VRWorks technology allows developers to create virtual reality experiences that are more realistic, responsive, and engaging.

Nvidia is a popular stock among millennials. The company has experienced explosive growth in recent years, thanks in part to its dominance in the gaming and AI markets. As of March 2023, NVIDIA is one of the world's most valuable companies, with a market capitalization of $595.61 Billion. This puts them in seventh place globally, based on market capitalization.
Nvidia has won numerous awards for its technology and innovation. In 2007, Forbes magazine recognized Nvidia's remarkable achievement by awarding the company their "Company of the Year" award. In 2017, the company's Volta GPU was awarded the "Best in Show" award at the annual SIGGRAPH conference, which recognizes the best and most innovative products in computer graphics and interactive techniques.
Nvidia is a also major player in the development of self-driving car technology. The company's Drive PX platform is used by many car manufacturers to develop autonomous vehicles. Tesla Inc. is one of the leading companies in this field and has adopted Nvidia's Drive PX 2 open AI platform for its autonomous car technology.
Artificial intelligence (AI) is a rapidly growing field, and Nvidia is well-positioned to capitalize on this trend. The company's GPUs are widely used in AI applications, and Nvidia has developed software tools to help developers build and deploy AI algorithms. Nvidia has created an AI supercomputer, called Pegasus, that can be used to power level 5 robotaxis. This system is extremely powerful, with the capability of performing over 320 trillion operations per second, despite being the size of a license plate. The technology has the potential to revolutionize the transportation industry by allowing robotaxis to safely transport customers on the roads.
NVIDIA is an outstanding employer that provides employees with a comfortable working environment. Employees enjoy great pay and benefits, such as stress-management programs, generous vacation time, and flexible work hours. In 2016, NVIDIA's CEO Jen-Hsun Huang was given a 98% approval rating by Glassdoor, which is an impressive rating that is higher than the majority of other CEOs.