Windows 11 is a step in the right direction, but it's not enough. Contrary to what many expected, the new minimum system requirement for Windows 11 isn't all that great.
Microsoft has set an unreasonable minimum system requirement for new computers with Windows 11 installed that will make many people unable to use their own computer. The company claims this mandate is meant to ensure consumers have access to all of the latest features and updates, yet anyone who wants those features should be able choose when they want them instead of being forced into updating every single time there's a virus or something happens on Twitter.
Following the release of Windows 11, it brings both confusion and excitement to users. Windows users aren't so sure about the minimum requirements for installing Windows 11 which should be TPM 2.0. Microsoft has tried to clarify their position by updating documentation on its website.
The new TPM 2.0 requirement will make it difficult for some Windows 7 and 10 users to upgrade their devices, as the older version of hardware is not compatible with this newer software update.
Microsoft has quietly updated its Windows compatibility support documentation. The new info confirms that TPM 2.0 is a minimum hardware requirement. Microsoft removed the "soft" and "hard" floor requirements for older devices with 1.2TPMs which suggest all old PCs will be supported officially in the near future!
For those looking to do a fresh install of Windows 11 on their existing hardware, Microsoft officials have confirmed that version 2.0 of the TPM chip is required.
If you've been searching for a way to unlock all the new features in Windows 11 but didn't have TPM (or had an outdated version of it), we've got good news. You can now bypass those pesky security measures and upgrade your machine without any hiccups, no matter what type!
You can bypass both TPM and SecureBoot restriction.
Modify Registry
The first method requires editing the registry during installation, a process which is not compatible on unsupported devices. If you try installing the Windows 11, it will be blocked by an error message that states this computer isn't supported and cannot run it.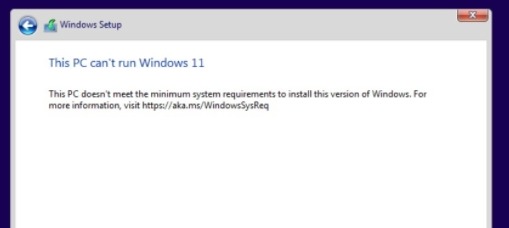 When a screen pops up to notify that your PC cannot install Windows 11, you can press Shift+F10 keys to open Command Prompt.
On the terminal, type in regedit to open Windows' registry. Then add 2 entries for HKEY_LOCAL_MACHINE\SYSTEM\Setup\LabConfig as following:
BypassTPMCheck=dword:00000001
BypassSecureBootCheck=dword:00000001
Create an installation media
If you want an upgrade to Windows 11, why not try the second method? This involves modifying the ISO file. If you have a download of Windows 11 media image that is ready for installation and setup.exe is in it as well, then just use this simple workaround by simply running Setup from within your new operating system!
In order to fix the issue with faulty appraiserres.dll files you need to replace it on your installation media with its respective Windows 10 version. Then recreate the Windows 11 ISO file with a software like AnyBurn or Rufus and run setup file again.
Conclusion
This is to say that these two methods have been tested with Windows 11's preview build. When RTC version of the OS is released next year, these 2 methods might or might not work. For now, you might be able to bypass these restrictions by adding some changes to the installation process.
And, it is kind of clear that Windows 11 doesn't require TPM 2.0.