Mobile devices provide an easier way for producers and music lovers to create and share music.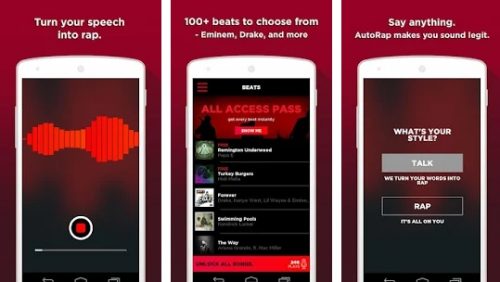 With Smule's "rappification" technology, AutoRap creates a unique rap by mapping the syllables of your speech to any beat. There are 2 modes featured in this app, Talk mode and Rap mode.  Both can help you create your own original rap songs to over 70+ beats, many from songs you know and love by artists like Snoop Dogg and Nicki Minaj.
The app has a VIP subscription at $4.99 that offers PREMIUM features. VIP users can use all songs for unlimited use.
Audio Evolution Mobile is by far the best recording app I have seen for the Android platform. It is the most powerful multitrack audio/MIDI sequencer on Android, which supports  over 250 USB audio/MIDI interfaces and virtual instruments. It is also packed with features like non-linear non-destructive editing with unlimited undo/redo, mixing, real-time effects, automation and many more. This app is a complete music record studio on the go.
G-Stomper Studio is a highly optimized music production app for doing electronic live performances in high quality. It comebines different tools, an Analog Modeling Synthesizer, Step Sequencer based Drum Machine/Groovebox, a polyphonic + a monoponic Step Sequencer for melodies, a Piano Keyboard, 24 Drum Pads, an Effect Rack, a Track Grid Sequencer for Beats, a Master Section, a Line Mixer and a Live Pattern/Song Arranger.
Cross DJ Pro can mix tracks in perfect sync on a robust audio engine developed by Mixvibes. The app detects beat per minute of your music perfectly, down to the last decimal. With only one tap, the 2 tracks can be combined an synced accurately.
edjing 5 DJ Music Mixer Studio
With edjing, users can create their own mixes and share them directly to popular social networks. There are over 30 million users aroudn the world. It features millions of tracks from SoundCloud and Deezer. Users can match the beats manually or use sync button to synchronize the bpm of their tracks and achieve seamless transitions.
DJ Studio 5 – Free music mixer
DJStudio is a free and powerful virtual turntable for DJs. The app allows you to mix, remix, loop, scratch or pitch your music in the palm of your hands using any Android devices.
It is designed to be user friendly, social and responsive. Any users now have the right tool to mix their own music.
FL Studio Mobile is similar to its desktop version which allows you to compose and store complete multi-track music projects on your Android devices. FL Studio Mobile projects can be imported into the FL Studio Desktop PC version and enhanced to a new level. With 133 high quality instruments, drum kits & sliced-loop beats, the app can turn any amateur into a pro.
GrooveMixer is a real-time drum machine for creating and mixing music beats on Android phones or tablets. This drum app includes pattern sequencer, pattern/channel mixer, 8-channel step sequencer, sample list with file explorer for importing WAV, OGG or FLAC loops/drums from your sdcard.
GrooveMixer is another good tool for music composers to make hip hop, house, dubstep and other music grooves.
PocketBand Pro can build high quality tracks as a sequence of loops, drums, mixing synths, samplers, analog modulators, audio recordings and arpeggiators. Users can apply Fx to channels and export to mp3 or ringtones. It performs the audio rendering process on the developer's server. As a result, it requires internet connection.
With the new MUSIC MAKER JAM for Android anyone can make their own amazing tracks quickly and fun. The app features a wide range of professionally produced loops to be arranged up to 8 tracks. This app offers robust control which makes music production even more fun and easy than you ever imagined. All of the tracks are perfectly synchronized to keep you on the beat every step of the way. The app comes with 4 free genres, one is Hip Hop and the other 3 genres are of user' choice.