EXIF stands for Exchangeable Image File Format and it's a standard supported by many different cameras, including smartphones. This type of file stores information about the image such as camera make, date taken, shutter speed, aperture value etc.
All these pieces of information are stored in a "header" which comes before the data that contains the picture itself. You can view this header using any text editor or even some photo viewers on your computer if you know where to look.
It's a common misconception that EXIF data is saved with every photo taken. In fact, many cameras and smartphone apps will only save the EXIF information if it has been enabled in the camera settings or app. It might not be possible to view this kind of metadata on devices from manufacturers like Apple which are known for their tight control over what third party apps can do.
Both TIFF and JPEG formats support EXIF. It is most often seen in JPEG images captured with a digital camera.
How to read EXIF
There are many ways to view EXIF data of an image. You can use apps like Adobe Photoshop or IrfanView (with external extension) to read the meta data.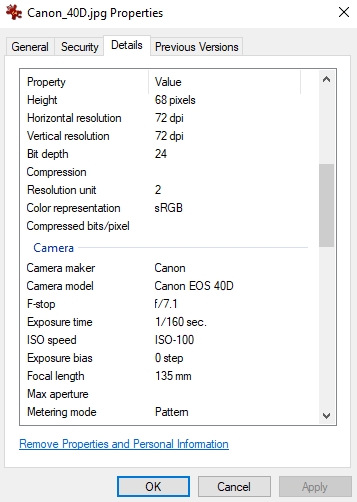 The easiest approach on Windows 10 is to view the image's properties. Here are steps to view EXIF data:
Right-click on an image to open contextual menu.
Click on Properties at the bottom of the menu.
Switch to Details tab to view all EXIF data.