Vietnamese is the official language of Vietnam. It is an analytic language with phonemic tone.
Type Vietnamese Online Tool
You can type Vietnamese right on our website and share it to anywhere by copy and paste without using a Vietnamese keyboard software.
You can pick among 3 methods: TELEX, VNI, and VIQR. Auto method combines both TELEX and VNI.
How to type Vietnamese with TELEX
| | | |
| --- | --- | --- |
| How to type | Result | Examples |
| aw | ă | sawn => săn |
| aa | â | laan => lân |
| dd | đ | ddi => đi |
| ee | ê | neem => nêm |
| oo | ô | boo => bô |
| ow | ơ | cow => cơ |
| uw or w | ư | tuw hay tw |
| f | | caf => cà |
| s | | sawcs => sắc |
| r | | moir => mỏi |
| x | | ngax => ngã |
| j | | baanj => bận |
Vietnamese Keyboards
Besides using our tool to type Vietnamese online, you can use following software or apps depends on the device's operating system.
Unikey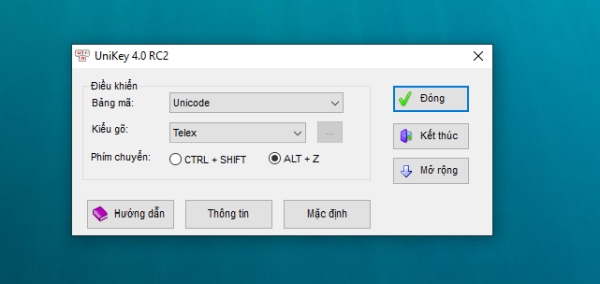 First released in 1999, Unikey has been the longest running keyboard for Windows. It became the most popular keyboard thanks to its speed, simplicity, and reliability, and still is the most popular keyboard software for Vietnamese language.
Apple has integrated UniKey Vietnamese Input Method to the built-in Vietnamese input of Mac OS starting from Mac OS X Leopard, released in 2007.
Laban Key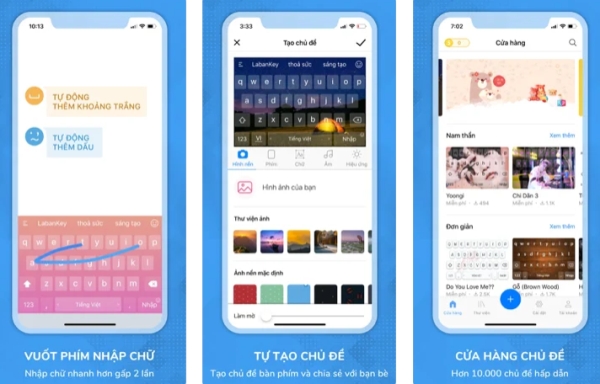 If you are using iPhone or Android devices, Laban Key is the best app to type Vietnamese with lots of features. It is a keyboard app which helps you to type Vietnamese much faster using Telex or VNI input method.
It supports smart word suggestion and spell check.
There is enhanced Telex mode which lets you type much faster by using these combo: cc=ch, gg=gi, kk=kh, nn=ng, qq=qu, pp=ph, tt=th, uu=ươ.
You can customize the keyboard with a rich set of beautiful keyboard themes.
Make the text fun with Thousands of emojis, emoticons, symbols, and funny sticker with Zamoji and Zavatar.
Tone marks can be added to existing words.