Zoom is one of the best video conferencing software out there. It has three membership levels: Free, Plus and Pro with prices ranging from $14.99 to $35 per month depending on what features you need.
Free Zoom version lets users connect up to 100 people at a time for collaboration sessions which can be recorded in HD quality. The interface itself is easy to navigate and secure as it prevents unwanted guests or uninvited participants during your meeting without any additional cost. If you want an all-around conference system that includes calling services, messaging, whiteboard tools etc., then this is by far your best choice if not just for its price point!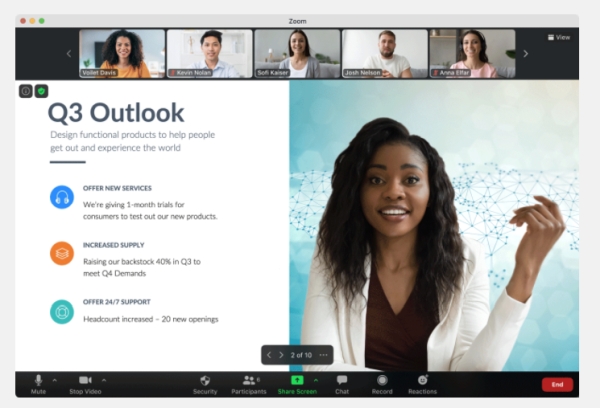 Features
1. Zoom is a video conferencing and web meeting service that allows you to meet with people from all over the world in HD quality, without having to worry about lag time or poor connection speeds.
2. With Zoom's screen sharing feature, you can share your computer screen with other participants so they can see exactly what you're seeing on your end of the call – perfect for remote troubleshooting!
3. You can also use Zoom's chat feature to communicate with others during the meeting while still being able to hear everyone else in the room as well as see their video feed. This makes it easy for everyone involved in the call to stay connected even when not talking at once!
4. If you need help using any of these features, there are tutorials available on how best to use them and get started right away!
5. Zoom offers a free trial period so that anyone who wants to try out their services before committing has an opportunity do so without paying anything upfront first! 
6. All meetings are recorded automatically by default, which means if something goes wrong or someone misses part of the conversation later down the line, it will be saved for playback at any time afterwards.
Hotkeys
| | |
| --- | --- |
| Alt+F | Toggle Full screen |
| Alt+V | Start/stop Video |
| Alt+A | Mute/unmute Audio |
| Alt+S | Share content/ launch share screen |
| Alt+H | Hide/unhide in-meeting chat panel |
| Alt | Show/hide meeting control |
| Alt+F1 | Switch to active speaker view in video meeting |
| Alt+F2 | Switch to gallery video view in video meeting |
| Alt+U | Display or hide participants panel |
| Alt+Y | Raise/lower hand |
| Alt+M | Mute/unmute audio for everyone except host |
| Alt+R | Start/stop local recording |
| Alt+C | Start/stop cloud recording |
| Alt+P | Pause or resume recording |
| Alt+N | Switch camera |