In any mobile apps and software like Chrome, you will see an icon which can be clicked to expand a popup window with more menu items and actions.
Kehab menu's design
If you see some an icon with three vertical dots, you can call it a Kebab menu. A Kebab menu is also known as the three dots menu or the three vertical dots menu. It is a list of additional options that can be selected through clicking.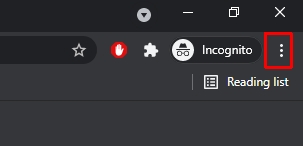 How to access the Kebab menu?
The icon is most often found at the top-right or top-left of an app or software's screen.
Did you know that there are no universal shortcut keys for kebab menus? In most case, you need to reach the menu via mouse browsing on PC and laptop or finger touch on mobile.
On Windows, some programs like Google Chrome allow users to press Alt key to highlight the location of the Kebab menu. You still need to open its children via tapping or clicking event.