You wake at 4 a.m. Commute for a few minutes, and work in the office for 8 hours. It's quite a hassle, right? Working from home can be a lifesaver. You can avoid a hectic commute, toxic environment in the office, and high transportation costs while earning a good income for your family.
What are the best remote work job boards you can take advantage of? Well, there are reliable platforms to choose from, including Freelancer.com, Virtual Vocations, and Guru. What else? Here are the other 7 best remote work job orders you shouldn't miss:
7 Best Remote Work Job Boards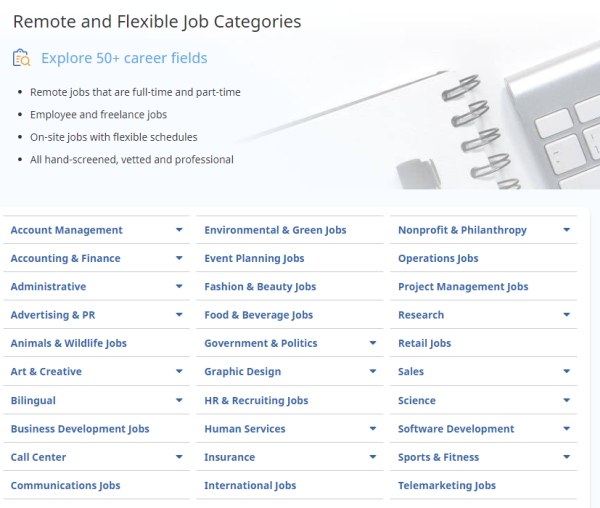 One of the experts-recommended work sites online, FlexJobs, is home to 50 careers with over 30,000 jobs for different professionals across the globe. That's not all! Narrowing the results down based on your preferred job is easy. You can select either Only Remote Jobs, part-time, freelance, full-time, or flexible schedule.
Featured in the Wall Street Journal and Time Magazine, FlexJobs is the go-to platform for businesses and skilled individuals. It is not free, though. For a 1 month subscription, the cost is around $14.95. Long-term subscription, on the other hand, can reduce the expenses. It also offers a 30-day money-back guarantee.
Packed with more than 1,000 jobs, Hubstaff Talent is another popular remote work boards for everyone. You can sort gigs based on the total project budget, required experience level, and more.
Vacant positions include data entry clerks, product imaging, and marketing consultants. Hubstaff Talent also provides a remote job that exceeds your needs.
Fiverr is the most sought-after platform for professionals who have just started working from home. Everyone can set projects for $5 and above. Unlike the other job boards over the internet, Fiverr makes you the boss. You can set the terms of the specific job.
After signup, create a Gig. Once hired, don't forget to produce good work to receive a decent rating. Positive reviews can enhance your credibility, enticing new clients.
Originally designed for establishing a professional profile and staying in touch with business colleagues, LinkedIn has transformed into a platform to explore employment opportunities online.
Users can search for different, quality, and high-paying jobs with peace of mind. Start a career in LinkedIn, share your talent, and be happy.
Reputed for having 1,000 employment solutions, Jobspresso has more than 100,000 remote workers. The website sends out job updates to keep skilled professionals notified. Just prepare and submit your resume beforehand. There are also several jobs in a variety of fields in technology, finance, customer support, and marketing.
AngelList can help you find an amazing job in the tech and startup world. It is a great way to save time and energy while searching for the right role. With 130,000 employment opportunities available, you can be sure you will find one that matches your skills. All you have to do is submit your resume and the list will do the rest of the work getting it to the right companies.
One of the most trusted remote job websites, Upwork is a global freelancing marketplace designed to connect businesses of any size to independent professionals. It features work in an array of categories. The signup process is free and convenient. There are video editing, content writing, research, programming, web design, and more.
The competition, however, is fierce. A strong portfolio will help you stand apart from the swarm of applicants.
High-paying salaries? Good career? Quality incentives? Any of these best remote work job boards can make your dreams a reality.
Try working home from today!