Permalink is a link used to access the web page or post that you are currently on. The term "permanent link" comes from the fact that it will always lead you back to this same place, no matter how many other links you click on in the future.
A permalink is a specific URL of a website post, and it's what you'll use to share a blog post on social media. Permalinks are used for blogs. Blogs are constantly updated and it can be hard to find old posts. But if you use permalinks, people can find the post by using the link to it. Whenever you write a new blog post, it will appear at the top of your blog. But all of your old posts will be pushed down and hidden from sight. Without a permalink, people will only share the root domain of the blog.
WordPress is a popular blogging platform. You will see permalink setting for each blog post. A WordPress permalink contains all of the necessary information for search engines to index your content correctly. This includes your title, slug (the text after 'post-' in the URL), category, tags, excerpt (if provided), date published and more.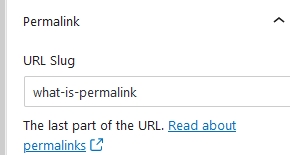 As you see, the permalink of this post is https://www.tldevtech.com/what-is-permalink/.