AMD has just pulled back the curtains on their FidelityFX Super Resolution 3 (FSR 3), and it's shaping up to be a game-changer. Building on its predecessor, FSR 2, the latest version of this cutting-edge upscaling technology is packed with new features and enhancements.
With over 300 games already supporting FSR, the inclusion of FSR 3 in the upcoming titles "Forspoken" and "Immortals of Aveum" is sure to capture the gaming world's attention.
What is AMD FSR 3?
AMD FidelityFX Super Resolution 3, often shortened to AMD FSR 3, is a technology designed to make video games run smoother and look better. It does this using two key methods: "super resolution temporal upscaling" and "frame generation."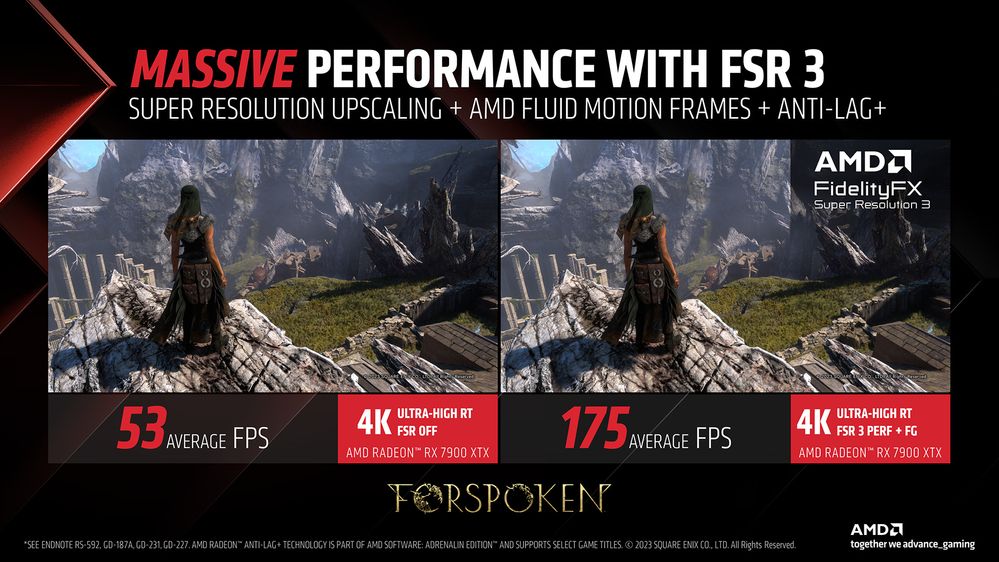 Super Resolution Temporal Upscaling: Think of this as a digital magnifying glass for video game graphics. It takes a lower-quality image and scales it up, making it look higher-quality than it originally was. This is especially useful if you're running a game on older hardware that struggles with high-definition graphics.
Frame Generation: This is the magic sauce that makes games run smoother. In essence, it creates additional video frames in between the frames that your computer or console is already generating. This results in a smoother motion and better gaming experience, particularly in high-intensity scenes.
Combine these two, and you get AMD FSR 3. It not only makes games look better but also allows them to run more fluidly.
What's New in FSR 3?
Frame Generation: The Crown Jewel
The most significant update in FSR 3 has to be the addition of frame generation. Utilizing AMD Fluid Motion Frames (AFMF) and temporal game data like motion vectors, this technology generates additional high-quality frames for buttery smooth gameplay, particularly when it's CPU-limited or you're aiming for 4K gaming with maxed-out ray tracing settings.
Smooth UI Experience
Recognizing potential challenges with frame generation affecting in-game UI, AMD has integrated UI processing in FSR 3. This ensures that your gaming interface remains untouched by the frame generation process.
Improved Temporal Upscaling
FSR 3 also optimizes the temporal upscaling tech from its predecessor, making it more efficient and fully compatible with the new frame generation technology.
Native AA: A New Quality Mode
FSR 3 introduces a new "Native Anti-Aliasing" (Native AA) quality mode, allowing for superior image quality without relying on upscaling.
This means if a game's default anti-aliasing isn't up to snuff, you can switch to this mode for a visual upgrade, albeit at a minor performance cost.
Performance Boosts and Gameplay Preferences
FSR 3 offers a variety of upscaling quality modes, such as "Quality" and "Performance," letting you balance image quality and gaming performance to your liking.
One important caveat, though: for optimal results, make sure you're running at least 60 FPS before enabling frame generation.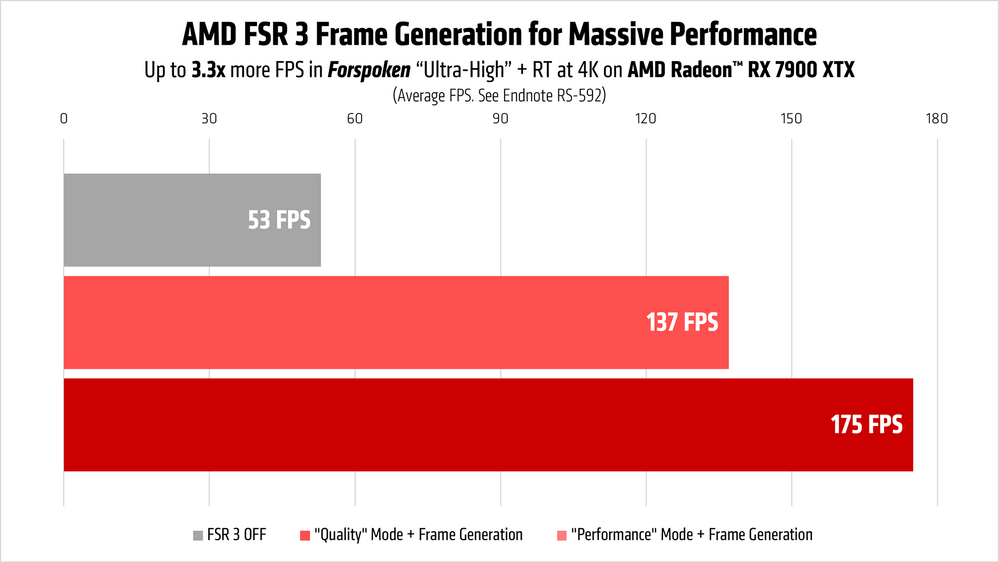 Latency: Keeping It Low
AMD hasn't forgotten about latency. FSR 3 incorporates latency-reduction technology for responsive gameplay, and it pairs well with the existing AMD Radeon Anti-Lag+ technology for Radeon RX 7000 Series card users.
Gamers using different hardware can benefit from AMD FSR 3's built-in technology that reduces latency. This technology is particularly useful when generating frames.
AMD Radeon gamers can enjoy extra latency reduction solutions within the driver, which further enhance their gaming experience.
Wide Range of Support
The first wave of games to feature FSR 3 includes "Forspoken" and "Immortals of Aveum," but AMD promises more are on the way, with 15 developers and publishers already on board.
FSR 3 will be open-source and is designed to work on a variety of hardware platforms, including those from NVIDIA, making it a truly universal solution.
For the best experience, AMD suggests using Radeon RX 6000 Series or above, and for NVIDIA users, GeForce RTX 30 Series and above. Lesser hardware can still utilize the tech but may not provide optimal performance.