A few years ago, most NAS devices were found in small or medium companies. But nowadays, those devices can be found in many homes. The home network storage market can already be considered quite settled. Several main players on the market are NETGEAR, QNAP, and Synology. These companies offer a wide variety of models that differ in terms of price, performance, and features.
If you're like most people, you have a lot of photos and videos stored on your computer. And if you're like most people, you don't back them up very often. Maybe you don't have time, or maybe you just don't think it's that important. But what would happen if your computer crashed? Or got stolen? All those memories would be gone forever. That's why you need a NAS device.
What is a NAS?
A NAS (Network Attached Storage) is a small, standalone computer that connects to your home network and provides storage for all your digital files. It's always on, so it can back up your computers automatically, and it's much cheaper than buying a bunch of external hard drives.
Most NAS devices consist of several drives that are combined into one storage unit by means of a NAS operating system. By connecting to a network, a NAS gives users the ability to share files and data quickly and easily. In addition, a NAS can be used as a backup device, providing an extra level of protection for critical data.
Why Does Your Home Need a NAS?
Network-attached storage can be a great addition to any home.
With a NAS, you can share files that any family member or device can access. This means that everyone can have their own user account and permissions, making it easy to keep track of who is accessing what.
Additionally, a NAS can be used to store backups which can be photos, files, documents, or operating systems firmware. This can be invaluable in the event of a data loss or system failure.
Finally, a NAS can be used to store video files from your video IP camera. This can provide you with an extra layer of security and peace of mind.
How Many Drives Do You Need?
NAS devices come in a variety of sizes, with the number of drives ranging from 1 to 16. The number of drives you need will depend on how much storage you require and how you plan to use your NAS.
If you just want to use your NAS for storing and streaming media, then two drives should be sufficient. However, if you want to use your NAS for backing up your computers, then you'll need at least three drives.
2-5 bay NAS devices are ideal for home users, as they offer ample storage space without being too large or expensive. In addition, 2-5 bay NAS devices offer a variety of features that can be tailored to the needs of the user. For example, some NAS devices come with built-in security features, while others offer the ability to stream media to connected devices.
What to Look For When Buying a NAS Device?
When shopping for a NAS, it is important to consider the number of drives you need, the amount of storage you require, and the features you want. With so many options on the market, there is sure to be a NAS that meets your needs.
There are a lot of different NAS devices on the market, so how do you choose the right one for you? Here are some things to consider:
Capacity: How much storage do you need? If you just have a few hundred gigabytes of data, you can probably get away with a small, single-drive NAS. But if you have multiple terabytes of data, you'll need a larger, multi-drive NAS.
RAID: Do you need data redundancy? If you want to be able to recover from a hard drive failure, you'll need a NAS with RAID support.
CPU and memory: Do you need a powerful NAS for video transcoding or other resource-intensive tasks? If so, make sure the NAS has a powerful CPU and plenty of RAM.
Connectivity: How will you connect to the NAS? If you just need basic file sharing, Ethernet is fine. But if you need to stream video or access files remotely, you'll need a NAS with built-in WiFi or USB connectivity.
Once you've considered all these factors, you should have a good idea of what type of NAS you need. So go out and get one – your memories will thank you for it!
Examples of NAS Devices
Asustor Lockerstor 2 AS6602T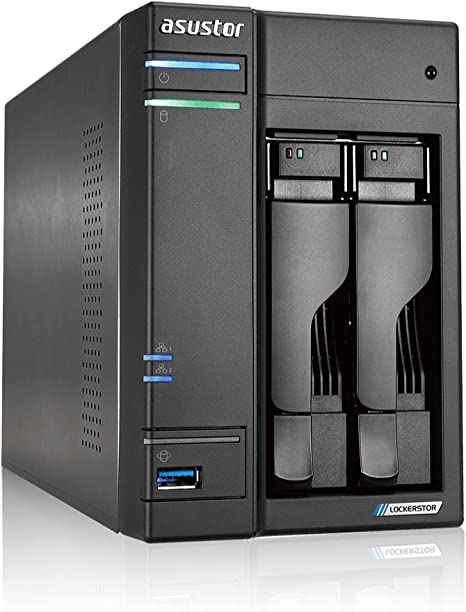 ASUSTOR has created the perfect solution for your business storage needs with the Lockerstor 2. This NAS device comes equipped with a Quad-core 2.0GHz CPU, 4GB of DDR4 RAM, and two M.2 SSD slots that can be used for caching. With its compatibility with SATA SSD/HDD drives up to 36TB, the Lockerstor 2 gives you the flexibility to expand your storage as needed.
Additionally, its two 2.5 Gigabit Ethernet ports offer high-speed data transfer rates, making it perfect for businesses that need to store and share large files. Finally, the Lockerstor 2 features HDMI 2.0a with 10bit 4K hardware decoding, HEVC decoding, and VP9 10bit Profile2 decoding for an immersive 4K HDR experience.
Synology 2 Bay NAS DiskStation DS220+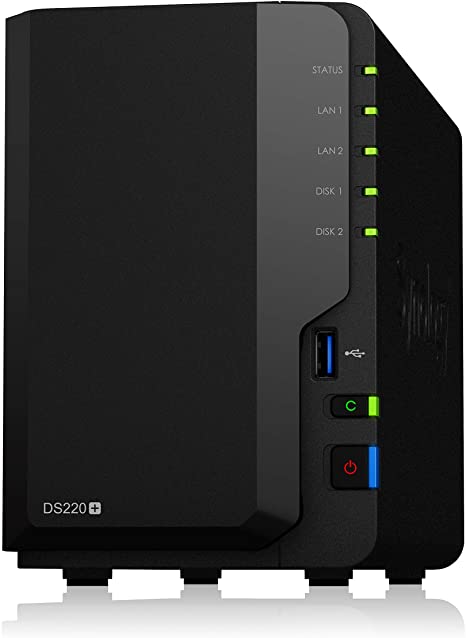 The Synology 2 Bay NAS DiskStation DS220+ is perfect for small businesses who need a reliable and efficient way to store and share data.
This device features dual 1GbE LAN ports to support network failover, and with Link Aggregation enabled, DS220+ provides over 225 MB/s sequential reads and 192 MB/s sequential write throughput. Data can be further protected with RAID 1 disk mirroring to prevent sudden drive failure.
The Intel dual-core processor provides ample power for photo indexing and other computing-intensive operations, as well as database response time. By default, two camera licenses are installed; extra licenses can be purchased (CLP1, CLP4, or CLP8).