Chrome browser is a widely used platform and, like any software, it can sometimes display error codes. Understanding these error codes and knowing how to address them can enhance your browsing experience. Let's take a look at some common Chrome error codes and their fixes.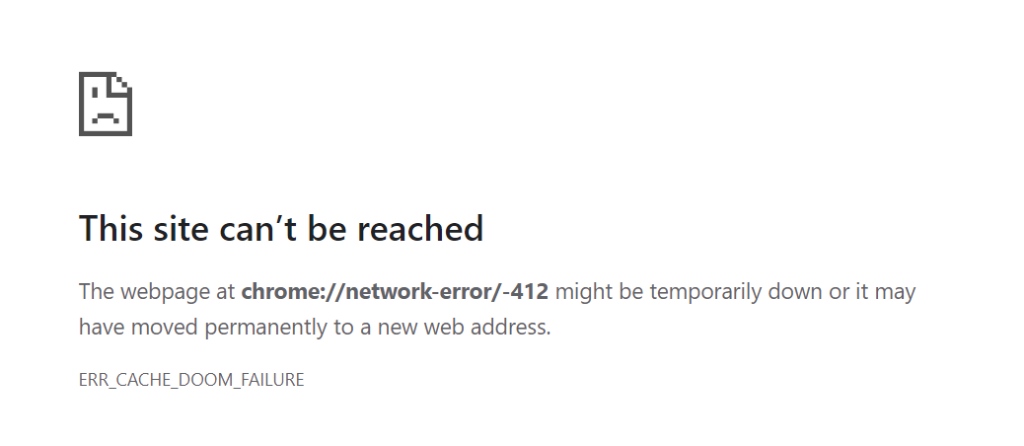 Common Chrome Web Browser Error Codes
ERR_CONNECTION_TIMED_OUT: This error signifies that your browser couldn't connect to the internet within the allotted time. To fix this, check your internet connection and ensure it's stable and fast enough. Restarting your router or connecting to a different network can also resolve this issue.
ERR_INTERNET_DISCONNECTED: When you see this error, Chrome is telling you that your computer isn't connected to the internet. Make sure your Wi-Fi or Ethernet cable is connected properly. If the problem persists, troubleshoot your network settings or contact your ISP.
ERR_CONNECTION_REFUSED: This error occurs when Chrome is unable to connect to the website server. It often indicates that the site is down or that there's a problem with your firewall settings. Check if the website is accessible from another device, and if so, examine your firewall and antivirus settings to ensure they're not blocking Chrome.
ERR_CACHE_MISS: This message pops up when a webpage needs certain data to display properly but can't find it in the cache. Solving this is as easy as hitting the refresh button or clearing your browser cache through Chrome's settings menu.
ERR_CERT_SYMANTEC_LEGACY: This error is specific to security certificates issued by Symantec before June 1, 2016. Chrome no longer trusts these certificates, so if you encounter this error, you'll need to contact the website owner to update their certificate.
ERR_SSL_PROTOCOL_ERROR: A message indicating an SSL protocol error suggests there's a problem with the website's SSL certificate or its configuration. Often, simply refreshing the page can fix this. If not, check your system's date and time settings, as an incorrect setup can cause this error.
ERR_TOO_MANY_REDIRECTS: This error indicates a site is caught in a loop of redirects. Clearing your cookies for the site in question usually resolves this. Alternatively, checking for incorrect settings in your Chrome cookies can also help.
8. ERR_CERT_COMMON_NAME_INVALID: This error appears when there's a mismatch between the certificate name and the domain you're trying to visit. Clearing your browser's cache and cookies can fix this, but if it doesn't, you may need to contact the website owner to rectify their SSL certificate.
ERR_CERT_AUTHORITY_INVALID: An error that suggests Chrome cannot verify the SSL certificate issued by the authority. Check for software updates for your browser or operating system as a first step. If the issue persists, it could be a problem with the website's certificate.
ERR_CONTENT_DECODING_FAILED: If you encounter this error, it typically means that the website you're visiting cannot be decoded because of a problem with the server's compression. A simple refresh can sometimes fix this, but if it doesn't, you may need to wait for the server owner to resolve the issue.
ERR_EMPTY_RESPONSE: An empty response error means that the site returned no data. This could be a server-side issue. Restarting your router or clearing your browsing data might help. If not, the website's server might be down, and you'll have to try again later.
ERR_SSL_VERSION_OR_CIPHER_MISMATCH: This happens when there's a discrepancy between the SSL protocol version Chrome accepts and the version the website supports. You can try accessing the site from another browser, but ultimately it's an issue that the site admin needs to address.
ERR_BAD_SSL_CLIENT_AUTH_CERT: This indicates a problem with the SSL client certificate. It's a more complex issue that usually requires the website or network admin to issue or configure the correct certificate.
Full List of Chrome Error Codes
ERR_ACCESS_DENIED (-10)
ERR_ADDRESS_INVALID (-108)
ERR_ADDRESS_IN_USE (-147)
ERR_ADDRESS_UNREACHABLE (-109)
ERR_ADD_USER_CERT_FAILED (-503)
ERR_ALPN_NEGOTIATION_FAILED (-122)
ERR_BAD_SSL_CLIENT_AUTH_CERT (-117)
ERR_BLOCKED_BY_ADMINISTRATOR (-22)
ERR_BLOCKED_BY_CLIENT (-20)
ERR_BLOCKED_BY_CSP (-30)
ERR_BLOCKED_BY_ORB (-32)
ERR_BLOCKED_BY_RESPONSE (-27)
ERR_CACHED_IP_ADDRESS_SPACE_BLOCKED_BY_PRIVATE_NETWORK_ACCESS_POLICY (-384)
ERR_CACHE_AUTH_FAILURE_AFTER_READ (-410)
ERR_CACHE_CHECKSUM_MISMATCH (-408)
ERR_CACHE_CHECKSUM_READ_FAILURE (-407)
ERR_CACHE_CREATE_FAILURE (-405)
ERR_CACHE_DOOM_FAILURE (-412)
ERR_CACHE_ENTRY_NOT_SUITABLE (-411)
ERR_CACHE_LOCK_TIMEOUT (-409)
ERR_CACHE_MISS (-400)
ERR_CACHE_OPEN_FAILURE (-404)
ERR_CACHE_OPEN_OR_CREATE_FAILURE (-413)
ERR_CACHE_OPERATION_NOT_SUPPORTED (-403)
ERR_CACHE_RACE (-406)
ERR_CACHE_READ_FAILURE (-401)
ERR_CACHE_WRITE_FAILURE (-402)
ERR_CERTIFICATE_TRANSPARENCY_REQUIRED (-214)
ERR_CERT_AUTHORITY_INVALID (-202)
ERR_CERT_COMMON_NAME_INVALID (-200)
ERR_CERT_CONTAINS_ERRORS (-203)
ERR_CERT_DATABASE_CHANGED (-714)
ERR_CERT_DATE_INVALID (-201)
ERR_CERT_END (-219)
ERR_CERT_INVALID (-207)
ERR_CERT_KNOWN_INTERCEPTION_BLOCKED (-217)
ERR_CERT_NAME_CONSTRAINT_VIOLATION (-212)
ERR_CERT_NON_UNIQUE_NAME (-210)
ERR_CERT_NO_REVOCATION_MECHANISM (-204)
ERR_CERT_REVOKED (-206)
ERR_CERT_SYMANTEC_LEGACY (-215)
ERR_CERT_UNABLE_TO_CHECK_REVOCATION (-205)
ERR_CERT_VALIDITY_TOO_LONG (-213)
ERR_CERT_VERIFIER_CHANGED (-716)
ERR_CERT_WEAK_KEY (-211)
ERR_CERT_WEAK_SIGNATURE_ALGORITHM (-208)
ERR_CLEARTEXT_NOT_PERMITTED (-29)
ERR_CLIENT_AUTH_CERT_TYPE_UNSUPPORTED (-151)
ERR_CONNECTION_ABORTED (-103)
ERR_CONNECTION_CLOSED (-100)
ERR_CONNECTION_FAILED (-104)
ERR_CONNECTION_REFUSED (-102)
ERR_CONNECTION_RESET (-101)
ERR_CONNECTION_TIMED_OUT (-118)
ERR_CONTENT_DECODING_FAILED (-330)
ERR_CONTENT_DECODING_INIT_FAILED (-371)
ERR_CONTENT_LENGTH_MISMATCH (-354)
ERR_CONTEXT_SHUT_DOWN (-26)
ERR_CT_CONSISTENCY_PROOF_PARSING_FAILED (-171)
ERR_CT_STH_INCOMPLETE (-169)
ERR_CT_STH_PARSING_FAILED (-168)
ERR_DICTIONARY_LOAD_FAILED (-812)
ERR_DISALLOWED_URL_SCHEME (-301)
ERR_DNS_CACHE_MISS (-804)
ERR_DNS_MALFORMED_RESPONSE (-800)
ERR_DNS_NAME_HTTPS_ONLY (-809)
ERR_DNS_NO_MATCHING_SUPPORTED_ALPN (-811)
ERR_DNS_REQUEST_CANCELLED (-810)
ERR_DNS_SEARCH_EMPTY (-805)
ERR_DNS_SECURE_RESOLVER_HOSTNAME_RESOLUTION_FAILED (-808)
ERR_DNS_SERVER_FAILED (-802)
ERR_DNS_SERVER_REQUIRES_TCP (-801)
ERR_DNS_SORT_ERROR (-806)
ERR_DNS_TIMED_OUT (-803)
ERR_EARLY_DATA_REJECTED (-178)
ERR_ECH_FALLBACK_CERTIFICATE_INVALID (-184)
ERR_ECH_NOT_NEGOTIATED (-183)
ERR_EMPTY_RESPONSE (-324)
ERR_ENCODING_CONVERSION_FAILED (-333)
ERR_ENCODING_DETECTION_FAILED (-340)
ERR_FAILED (-2)
ERR_FILE_EXISTS (-16)
ERR_FILE_NOT_FOUND (-6)
ERR_FILE_NO_SPACE (-18)
ERR_FILE_PATH_TOO_LONG (-17)
ERR_FILE_TOO_BIG (-8)
ERR_FILE_VIRUS_INFECTED (-19)
ERR_FTP_BAD_COMMAND_SEQUENCE (-607)
ERR_FTP_COMMAND_NOT_SUPPORTED (-606)
ERR_FTP_FAILED (-601)
ERR_FTP_FILE_BUSY (-604)
ERR_FTP_SERVICE_UNAVAILABLE (-602)
ERR_FTP_SYNTAX_ERROR (-605)
ERR_FTP_TRANSFER_ABORTED (-603)
ERR_H2_OR_QUIC_REQUIRED (-31)
ERR_HOST_RESOLVER_QUEUE_TOO_LARGE (-119)
ERR_HTTP2_COMPRESSION_ERROR (-363)
ERR_HTTP2_FLOW_CONTROL_ERROR (-361)
ERR_HTTP2_FRAME_SIZE_ERROR (-362)
ERR_HTTP2_INADEQUATE_TRANSPORT_SECURITY (-360)
ERR_HTTP2_PING_FAILED (-352)
ERR_HTTP2_PROTOCOL_ERROR (-337)
ERR_HTTP2_RST_STREAM_NO_ERROR_RECEIVED (-372)
ERR_HTTP2_SERVER_REFUSED_STREAM (-351)
ERR_HTTP2_STREAM_CLOSED (-376)
ERR_HTTPS_PROXY_TUNNEL_RESPONSE_REDIRECT (-140)
ERR_HTTP_1_1_REQUIRED (-365)
ERR_HTTP_RESPONSE_CODE_FAILURE (-379)
ERR_ICANN_NAME_COLLISION (-166)
ERR_IMPORT_CA_CERT_FAILED (-705)
ERR_IMPORT_CA_CERT_NOT_CA (-703)
ERR_IMPORT_CERT_ALREADY_EXISTS (-704)
ERR_IMPORT_SERVER_CERT_FAILED (-706)
ERR_INCOMPLETE_CHUNKED_ENCODING (-355)
ERR_INCOMPLETE_HTTP2_HEADERS (-347)
ERR_INCONSISTENT_IP_ADDRESS_SPACE (-383)
ERR_INSECURE_RESPONSE (-501)
ERR_INSUFFICIENT_RESOURCES (-12)
ERR_INTERNET_DISCONNECTED (-106)
ERR_INVALID_ARGUMENT (-4)
ERR_INVALID_AUTH_CREDENTIALS (-338)
ERR_INVALID_CHUNKED_ENCODING (-321)
ERR_INVALID_ECH_CONFIG_LIST (-182)
ERR_INVALID_HANDLE (-5)
ERR_INVALID_HTTP_RESPONSE (-370)
ERR_INVALID_REDIRECT (-303)
ERR_INVALID_RESPONSE (-320)
ERR_INVALID_SIGNED_EXCHANGE (-504)
ERR_INVALID_URL (-300)
ERR_INVALID_WEB_BUNDLE (-505)
ERR_KEY_GENERATION_FAILED (-710)
ERR_MALFORMED_IDENTITY (-329)
ERR_MANDATORY_PROXY_CONFIGURATION_FAILED (-131)
ERR_METHOD_NOT_SUPPORTED (-322)
ERR_MISCONFIGURED_AUTH_ENVIRONMENT (-343)
ERR_MISSING_AUTH_CREDENTIALS (-341)
ERR_MSG_TOO_BIG (-142)
ERR_NAME_NOT_RESOLVED (-105)
ERR_NAME_RESOLUTION_FAILED (-137)
ERR_NETWORK_ACCESS_DENIED (-138)
ERR_NETWORK_CHANGED (-21)
ERR_NETWORK_IO_SUSPENDED (-331)
ERR_NOT_IMPLEMENTED (-11)
ERR_NO_BUFFER_SPACE (-176)
ERR_NO_PRIVATE_KEY_FOR_CERT (-502)
ERR_NO_SSL_VERSIONS_ENABLED (-112)
ERR_NO_SUPPORTED_PROXIES (-336)
ERR_OUT_OF_MEMORY (-13)
ERR_PAC_NOT_IN_DHCP (-348)
ERR_PAC_SCRIPT_FAILED (-327)
ERR_PAC_SCRIPT_TERMINATED (-367)
ERR_PKCS12_IMPORT_BAD_PASSWORD (-701)
ERR_PKCS12_IMPORT_FAILED (-702)
ERR_PKCS12_IMPORT_INVALID_FILE (-708)
ERR_PKCS12_IMPORT_INVALID_MAC (-707)
ERR_PKCS12_IMPORT_UNSUPPORTED (-709)
ERR_PRECONNECT_MAX_SOCKET_LIMIT (-133)
ERR_PRIVATE_KEY_EXPORT_FAILED (-712)
ERR_PROXY_AUTH_REQUESTED (-127)
ERR_PROXY_AUTH_REQUESTED_WITH_NO_CONNECTION (-364)
ERR_PROXY_AUTH_UNSUPPORTED (-115)
ERR_PROXY_CERTIFICATE_INVALID (-136)
ERR_PROXY_CONNECTION_FAILED (-130)
ERR_PROXY_HTTP_1_1_REQUIRED (-366)
ERR_QUIC_CERT_ROOT_NOT_KNOWN (-380)
ERR_QUIC_GOAWAY_REQUEST_CAN_BE_RETRIED (-381)
ERR_QUIC_HANDSHAKE_FAILED (-358)
ERR_QUIC_PROTOCOL_ERROR (-356)
ERR_READ_IF_READY_NOT_IMPLEMENTED (-174)
ERR_REQUEST_RANGE_NOT_SATISFIABLE (-328)
ERR_RESPONSE_BODY_TOO_BIG_TO_DRAIN (-345)
ERR_RESPONSE_HEADERS_MULTIPLE_CONTENT_DISPOSITION (-349)
ERR_RESPONSE_HEADERS_MULTIPLE_CONTENT_LENGTH (-346)
ERR_RESPONSE_HEADERS_MULTIPLE_LOCATION (-350)
ERR_RESPONSE_HEADERS_TOO_BIG (-325)
ERR_RESPONSE_HEADERS_TRUNCATED (-357)
ERR_SELF_SIGNED_CERT_GENERATION_FAILED (-713)
ERR_SOCKET_IS_CONNECTED (-23)
ERR_SOCKET_NOT_CONNECTED (-15)
ERR_SOCKET_RECEIVE_BUFFER_SIZE_UNCHANGEABLE (-162)
ERR_SOCKET_SEND_BUFFER_SIZE_UNCHANGEABLE (-163)
ERR_SOCKET_SET_RECEIVE_BUFFER_SIZE_ERROR (-160)
ERR_SOCKET_SET_SEND_BUFFER_SIZE_ERROR (-161)
ERR_SOCKS_CONNECTION_FAILED (-120)
ERR_SOCKS_CONNECTION_HOST_UNREACHABLE (-121)
ERR_SSL_BAD_PEER_PUBLIC_KEY (-149)
ERR_SSL_BAD_RECORD_MAC_ALERT (-126)
ERR_SSL_CLIENT_AUTH_CERT_BAD_FORMAT (-164)
ERR_SSL_CLIENT_AUTH_CERT_NEEDED (-110)
ERR_SSL_CLIENT_AUTH_CERT_NO_PRIVATE_KEY (-135)
ERR_SSL_CLIENT_AUTH_NO_COMMON_ALGORITHMS (-177)
ERR_SSL_CLIENT_AUTH_PRIVATE_KEY_ACCESS_DENIED (-134)
ERR_SSL_CLIENT_AUTH_SIGNATURE_FAILED (-141)
ERR_SSL_DECOMPRESSION_FAILURE_ALERT (-125)
ERR_SSL_DECRYPT_ERROR_ALERT (-153)
ERR_SSL_HANDSHAKE_NOT_COMPLETED (-148)
ERR_SSL_KEY_USAGE_INCOMPATIBLE (-181)
ERR_SSL_NO_RENEGOTIATION (-123)
ERR_SSL_OBSOLETE_CIPHER (-172)
ERR_SSL_PINNED_KEY_NOT_IN_CERT_CHAIN (-150)
ERR_SSL_PROTOCOL_ERROR (-107)
ERR_SSL_RENEGOTIATION_REQUESTED (-114)
ERR_SSL_SERVER_CERT_BAD_FORMAT (-167)
ERR_SSL_SERVER_CERT_CHANGED (-156)
ERR_SSL_UNRECOGNIZED_NAME_ALERT (-159)
ERR_SSL_VERSION_OR_CIPHER_MISMATCH (-113)
ERR_SYN_REPLY_NOT_RECEIVED (-332)
ERR_TEMPORARILY_THROTTLED (-139)
ERR_TIMED_OUT (-7)
ERR_TLS13_DOWNGRADE_DETECTED (-180)
ERR_TOO_MANY_ACCEPT_CH_RESTARTS (-382)
ERR_TOO_MANY_REDIRECTS (-310)
ERR_TOO_MANY_RETRIES (-375)
ERR_TRUST_TOKEN_OPERATION_FAILED (-506)
ERR_TRUST_TOKEN_OPERATION_SUCCESS_WITHOUT_SENDING_REQUEST (-507)
ERR_TUNNEL_CONNECTION_FAILED (-111)
ERR_UNABLE_TO_REUSE_CONNECTION_FOR_PROXY_AUTH (-170)
ERR_UNDOCUMENTED_SECURITY_LIBRARY_STATUS (-344)
ERR_UNEXPECTED (-9)
ERR_UNEXPECTED_PROXY_AUTH (-323)
ERR_UNEXPECTED_SECURITY_LIBRARY_STATUS (-342)
ERR_UNKNOWN_URL_SCHEME (-302)
ERR_UNRECOGNIZED_FTP_DIRECTORY_LISTING_FORMAT (-334)
ERR_UNSAFE_PORT (-312)
ERR_UNSAFE_REDIRECT (-311)
ERR_UNSUPPORTED_AUTH_SCHEME (-339)
ERR_UPLOAD_FILE_CHANGED (-14)
ERR_UPLOAD_STREAM_REWIND_NOT_SUPPORTED (-25)
ERR_WINSOCK_UNEXPECTED_WRITTEN_BYTES (-124)
ERR_WRONG_VERSION_ON_EARLY_DATA (-179)
ERR_WS_PROTOCOL_ERROR (-145)
ERR_WS_THROTTLE_QUEUE_TOO_LARGE (-154)
ERR_WS_UPGRADE (-173)
How To Fix Most of These Problems
When facing any of these errors on Chrome browser, there are a few general troubleshooting steps you can take:
If you're encountering persistent issues with your Chrome browser, there's a variety of tried-and-true methods you can employ to rectify most problems. Here's a breakdown of these methods, providing a more comprehensive guide on how to implement each step effectively.
Restart Chrome: This is often the quickest fix. Close Chrome completely, making sure you end any background processes it may be running. You can do this by using the Task Manager on Windows (Ctrl + Shift + Esc) or the Force Quit window on Mac (Cmd + Opt + Esc). Then, reopen Chrome and see if the issue persists.
Reboot Your Computer or Device: Sometimes, the problem isn't with Chrome but with your system. A simple reboot can clear out temporary glitches in the operating system that could be affecting Chrome's performance. Save any work, then restart your device, and try accessing Chrome again.
Update Chrome to the Latest Version: Chrome usually updates automatically, but if you've turned this feature off, you may be missing out on important fixes. To manually update, click the three dots in the upper-right corner of Chrome, go to "Help" > "About Google Chrome," and the browser will check for and install any updates available.
Disable Any Chrome Extensions: Extensions can enhance your browsing experience, but they can also cause conflicts or errors. To see if an extension is the culprit, go to Chrome's menu, select "More tools," then "Extensions," and disable them one by one to identify if any are causing the issue. Remember to refresh Chrome after each one is disabled to check for changes.
Reset Chrome Settings to Default: Custom settings might sometimes interfere with Chrome's operation. Resetting Chrome to its original settings can eliminate these conflicts. To reset, go to "Settings," scroll down to "Advanced," and click on "Restore settings to their original defaults." This will disable your extensions and clear temporary data, but won't delete your bookmarks or passwords.
Reinstall Chrome: If none of the above steps work, uninstalling and then reinstalling Chrome can act as a "clean slate." Uninstall Chrome from the Control Panel on Windows or by dragging it to the Trash on Mac. Then, download the latest version from the official website and install it.
In addition to these steps, you should regularly perform system updates. Outdated system files can lead to software conflicts. For Windows, check for updates in your system settings; on Mac, use the App Store or system preferences to find and install updates.
Moreover, ensure that your antivirus software is current. An out-of-date antivirus can mistakenly flag and block Chrome from functioning properly. Open your antivirus program and check for an update option, then follow the prompts to install any available updates.
Lastly, if you're still facing issues after trying these fixes, it could be an indication of a deeper problem. In such cases, consider consulting tech forums, reaching out to Chrome's support, or seeking help from a professional technician.
It's also important to maintain regular system updates and keep your antivirus software up-to-date to prevent security-related errors.