The GPD G1 Graphics Card Expansion Dock is a powerful and capable external GPU (eGPU) enclosure that packs a powerful punch in a portable and flexible format.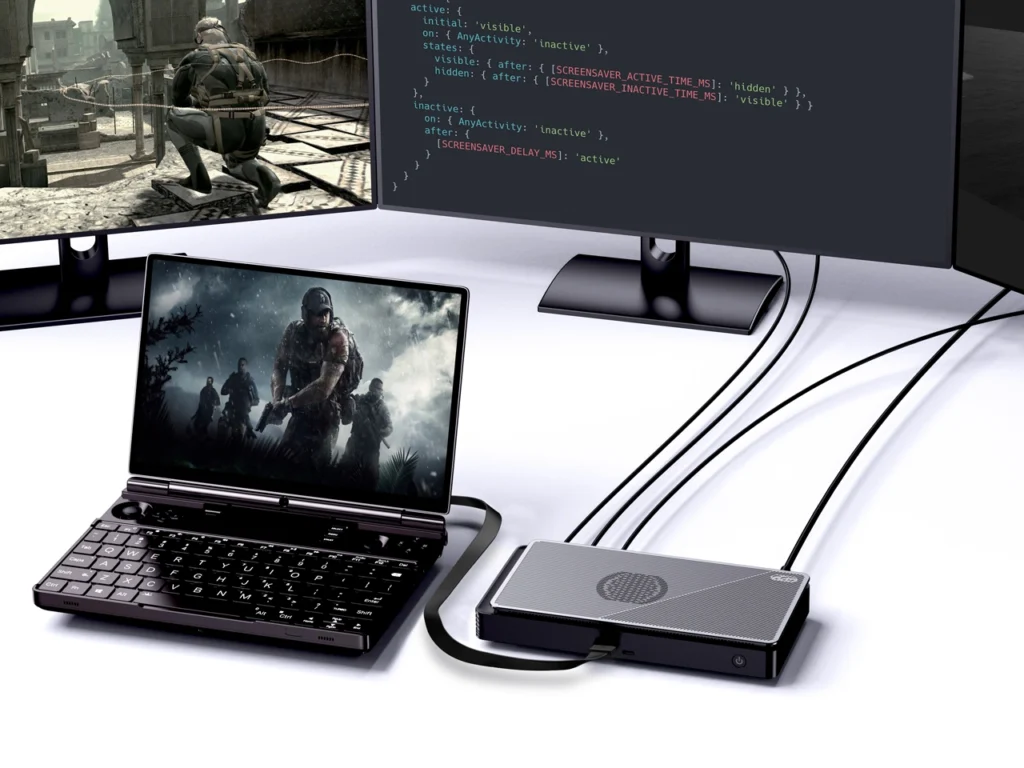 GPD G1 Graphics Card Expansion Dock Specs
Graphics Chip
Graphics Processing Unit: AMD Radeon™ RX 7600M XT
Architecture: RDNA 3.0
Process Size: 6nm
Base Clock: 1500 MHz
Game Clock: 2300 MHz
Boost Clock: 2615 MHz
Transistor Count: 13.3 B
Stream Processors: 4096
Ray Accelerators: 32
TMUs (Texture Mapping Units): 128
ROPs (Render Output Units): 64
FP16 (half): 42.84 TFLOPS
FP32 (float): 21.42 TFLOPS
FP64 (double): 669.4 GFLOPS
Texture Rate: 334.7 GTexel/s
Pixel Rate: 167.4 GPixel/s
Memory Specification
Memory Type: GDDR6
Memory Clock: 2250 MHz
Memory Bandwidth: 288.0 GB/s(18 Gbps)
Memory Size: 8GB
Graphics Port
Bus Bandwidth: 63Gbps (PCIe 4 × 4 or PCIe 3.0 × 4)
Bus Port: Oculink(SFF-8612)Female Port × 1, USB 4 × 1
Video Port
HDMI: HDMI 2.1 × 1
DisplayPort: DP 1.4a × 2
Data Port
USB Type A: USB 3.2,× 3,Only Valid When Connected to USB4 Host Device
SD Port: SD 4.0 × 1,Only Valid When Connected to USB4 Host Device
Other
Power Port: ×1
Cooling Method: Active Cooling, Air Cooling
TGP (Total Graphics Power): 120W
Size: 225 × 111 × 30 mm
Power Supply Wattage: Built-in 240W GaN Power Supply
Multi-screen design: Supports Up to Three External Screens
Shell Material: 6061 Aluminum-magnesium Alloy
Weight: 0.92kg
Attachment: USB4 Cable × 1, Power Line × 1, Warranty Card × 1, Product Manual × 1

This device is built around the AMD Radeon RX 7600M XT GPU. With RDNA3 architecture and a 6nm process, it houses 4096 stream processors, 32MB Infinity Cache, and 13.3 billion transistors, making it a powerhouse for gaming and graphics-intensive tasks.
In 3DMark benchmark tests, the G1 has shown impressive performance, outstripping even the likes of NVIDIA GeForce RTX 4060 (Mobile) and the RTX 4070 (Desktop), which suggests high graphical performance.

AMD's FSR 3.0 Technology is supported, which can drastically improve game frame rates – by up to 2 times according to the specs. This results in smoother gameplay and a better overall gaming experience. The support for AMD SmartShift MAX technology allows for dynamic allocation of system power, optimizing performance based on workload.
The GPD G1 features an axial fan and dynamic temperature control design, promising high airflow with low noise, an important feature for continuous gaming or high workload scenarios. The gallium nitride power supply is an innovative inclusion, offering a stable and high-wattage power supply with a full load efficiency of up to 94%.
The G1 offers wide-ranging connectivity options. The support for Thunderbolt 3/4 and USB4 allows it to connect to virtually any device that supports these interfaces, providing the potential to connect up to three displays. This expands the device's utility, making it not just a gaming solution, but a productivity one as well. The inclusion of USB A and SD card reader slots also increases its versatility.
The design appears to be well-thought-out, with a focus on performance and efficiency. The hidden three-in-one air duct is a smart design choice that reduces internal air turbulence and improves airflow, contributing to the overall cooling efficiency.
GPD G1 Pricing
GPD is set to launch its G1 eGPU solution, and here's the kicker – it's only going to cost $655 on Indiegogo! This is a real bargain when you compare it to its retail price of $795.