The Bluetooth portable speaker scene has lately exploded with fame, and now there are dozens of brands making all sorts of speakers. This means that it has created an intense competition which results in modernization, vibrant progress, additional features, and most worth mentioning – lower prices. And so ZoeeTree S5 TWS Portable Wireless Speaker comes with all the best features.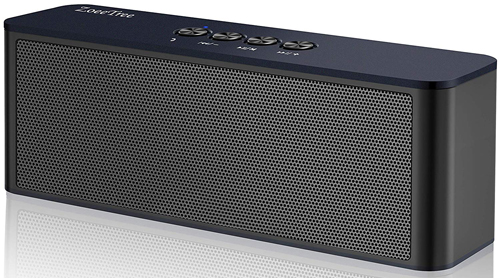 ZoeeTree S5 TWS Portable Wireless Speaker is an excellent little speaker. It is small in size but produces imposing sound quality. The speaker gets loud and clear without distortion, and the most outstanding and visible feature in the sound quality is the deep bass. The sound is so energetic and lively that it can quite comfortably fill a large room. Pressing a button is easy, and it gives a precise response as it should. The speaker has a High capacity rechargeable 1800 mAh battery which can go up to 10 hours of playtime at 2/3 volume on a full charge. It can also serve as a mobile power bank for other devices. It has Quick-charge in 2 hours.
The speaker size and the quality of the product are designed to carry comfortably for traveling or hiking, as it is easy to fit in a backpack or bag. Two speakers can be played together; however, the distance between the two speakers should not be more than 5m(16.4ft) for the TWS function. The speakers are reasonably priced but are of outstanding quality. It can easily pair with the phone and it is also easy to set up on iPad & Android. It also has the features to play from televisions and non-Bluetooth devices use with the help of a 3.5mm audio cable connected to the AUX-IN jack. It also has a built-in microphone for speakerphone calls from iPhones and smartphones. Its Specifications are:
Playback time: 10 hours with Bluetooth wireless connection /12 hours with wired (Battery status can be shown on iPhone)
45mm Speaker driver
2 to 3 hours charging time
40m Connection range
100Hz-20KHz Operating frequency
Built-in rechargeable 3.7V 1800mAh lithium-ion battery
360g (12.7 oz) Unit weight
8×2.2×2.9in (198x56x75mm) Dimension
≤0.1% Distortion
Pros
It has a perfectly balanced sound
It has a very tough texture yet so stylish design
It has a constant and robust Bluetooth connection
It has speakerphone compatible
It is a travel-friendly size
It has a built-in microphone
It can charge other devices
It is a great value saver
It has TWS function that can pair two speakers at a time
Cons
Average battery life
It is not waterproof
No handle straps
Conclusion:
If you are looking for a small size portable speaker that delivers a high-quality sound experience at a very reasonable price – the ZoeeTree S5 TWS Portable Wireless Speaker is your best choice. It has managed to find great stability in its toughness, sound quality, and compatibility. You certainly do not want to carry the speaker with you when traveling it is too large in size and heavy. At the same time, it is without a doubt an incredible option to carry with you for short trips to the picnic. Therefore, there is no better speaker in this price range which ZoeeTree S5 TWS Portable Wireless Speaker has once again delivered as one of the best outdoor or indoor Bluetooth speakers around.