Outdoor security cameras are now more affordable, and many homes are protected and secured by installing these security cameras as the first line of defense. Security cameras are responsible for preventing many burglaries and also protect the homes and loved ones from other intruders. The Zmodo Wireless Outdoor Security Camera System is an affordable outdoor security solution for homes.
Zmodo Wireless Security Camera System (Outdoor Cam 2 pack) Review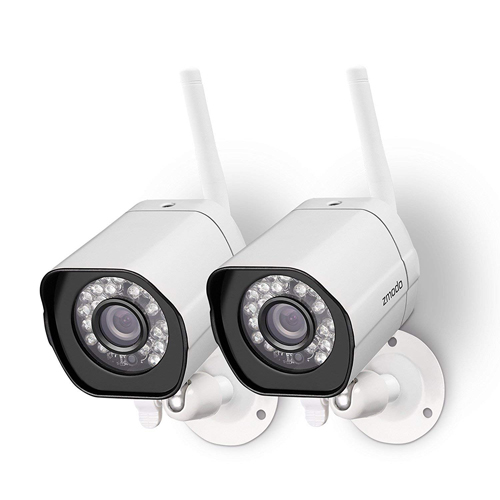 Zmodo Wireless Security Camera System for outdoor is priced at $64.23 and is a pack of two outdoor cameras. The Wireless Cameras are compatible with Alexa voice control. The 720p HD captures clear videos and also has night vision. It has 24 automatic infrared lights and can capture motions 65 feet away at night. It also supports Android and iOS devices via the Zmodo app. The Zmodo outdoor cameras are also waterproof and can withstand any types of weather. All videos captured are saved in the Zmodo cloud storage. It is compatible with 2.4GHz network connectivity, however, does not work with 5 GHz network. It offers 81-degree coverage with 2.8 mm lens.
The Zmodo Wireless Security Camera System for outdoor is easy to use. It can be set up and ready to use within 10-30 minutes. Notification alerts are sent to your smartphone promptly, and you can stream live videos and see what is happening in your yard and the neighborhood. You can also zoom in to check for a closer look. You can also use Alexa to show the displays of each camera. You, however, need to make sure to update your firmware to the latest version before you can use the voice control. You can also set it to a specific area to monitor and reduce your focus zone to reduce false alerts. You can change the settings of the cameras to minimize unwanted notifications and video capturing. The 24 automatic infrared lights help to capture clear visuals even at night. The night vision can also be adjusted by lowering the IR sensitivity to see color images even in low lights.
The device comes with 30 days free trial Zmodo Cloud Storage. After the trail, you can either subscribe to a 7-day plan or 30-day plan. Using the Zmodo Cloud Storage, it allows you to store video footage which can be shared or saved for future references. The outdoor cameras are waterproof and durable. It can withstand even harsh weathers. Videos stored on Zmodo Cloud Storage can be view on any Android or iOS devices and the PC. However, the initial setup has to be done via your smartphone. You can now view four channels at a time, so if you install two more additional cameras, you can see all four cameras footages at one time.
Conclusion
The installation of Zmodo Wireless Security Camera System is easy and straightforward. You can keep an eye on your house when you are not home. The video footages captured by the outdoor cameras are clear, and the notification alerts are prompt. Overall, it is a reliable and handy device and is an inexpensive home security system.