The Z83-W Fanless Mini PC is a small and silent PC by Plater based on an Intel processor. The fanless mini PC is a complete system and is ideal for those who cannot bear the noise of PC fans. The small-size mini PC can comfortably fit in your pocket and save you more space. The Z83-W mini PC package comes with the Z83-W Mini PC, one US power adapter, 1 HDMI cable, and an English Manual. The package does not include an SD card.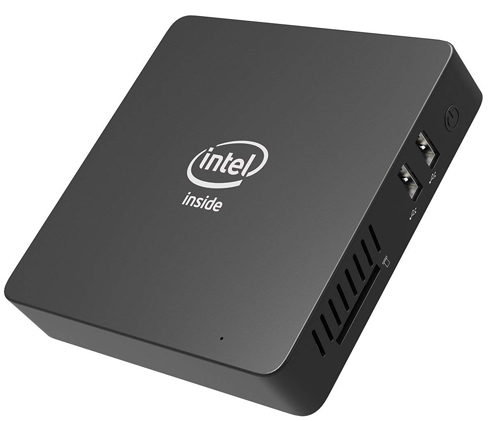 At $99.90, it is one of the most affordable Mini PC available currently. Intel Cherry Trail X5-Z8350 powers the Z83-W Fanless mini PC with a processor speed of 1.92 GHz, and the Graphic coprocessor is Intel HD Graphics. It also comes with fully licensed Windows 10 Pro 64-bit and will automatically register and will connect to the internet when plugged in. If the screen displayed is asking for the license number when you first plugged in, you should skip the step. It has a RAM size of 2GB with a 32 GB eMMC hard drive size. The Z83-W has one HDMI port, one VGA port, and 3 USB ports; 2 USB 2.0 and 1 USB 3.0 port. It also has one Headphone Microphone jack, one RJ45 1000Mbps Network Connection, one SD card slot, and one DC in port.
The Dual Screen Display via the VGA port and the HDMI port is a massive advantage for a Mini PC. At 30Hz, it has a display of 4K HD video playback which produces vibrant visuals. The inclusion of additional ports is also a huge plus point for the product.  As it comes with a pre-installed Windows 10 Pro edition, there is no need to register or purchase the OS separately. It has also been designed to correctly configure to boot even if there is no keyboard or mouse attached to it. One other advantage is that it supports auto-boot in case of power failure.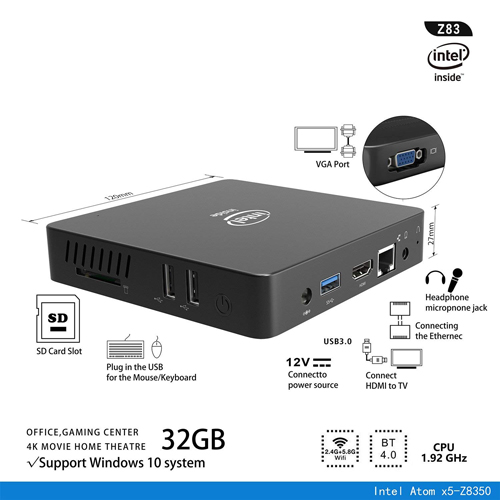 The Mini PC running on an Intel Cherry Trail processor with Intel HD Graphics and the latest 64-bit Window 10 Pro edition is ideal for work and entertainment. It provides fast start-up and you can also multitask. It is suitable for office productivity software and seamless online browsing. The 32GB storage and 2GB DDR3L RAM may not be ideal for most users; however, you can compensate by connecting an external storage drive or making use of the SD card slot. It is also packed with IEEE 802.11 ac wireless connectivity. The inclusion of a Gigabit Ethernet port along with Bluetooth 4.0 and the 3 USB ports are highly appreciated for better connectivity.
However, the support forum for this product is not available. Additional downloads such as for drivers or BIOS updates are not available. Although the product claims to support Linux, it only supports the Ubuntu Debian Kernel, and the BIOS needs to be reflashed before installing Linux. If you are going to use Windows 10 and will be playing flash games, this mini PC will work just fine like any new PC.