The Wyze Cam Pan 1080p is the latest in inexpensive home security cameras. The Wyze Cam records 1080p videos and stores videos in the cloud storage for 14 days. The Wyze Cam Pan is a welcome addition to the Wyze security cams. Some new features have been added to the Wyze Cam Pan which has raised the bar for cost-effective home security cams.
Wyze Cam Pan is a camera that you can control remotely using the Wyze app to see any angle of your room while you're away. You can pan 360° left/right and tilt 93° up/down to monitor your room automatically with the Pan Scan feature, which allows you to set four predefined waypoints.
Live streaming in 1080p Full HD lets you see inside your home from anywhere in real-time, and two-way audio allows you to talk with your family and friends.
This new Wyze Cam not only pans but also tilts and can detect motion.
Wyze Cam Pan can also detect motion and sound and record a 12-second video clip with mobile push notifications. Night vision allows you to see up to 30′ in absolute darkness, and it is voice-controlled with Alexa and Google Assistant (US only).
You can also share the camera with multiple family members and easily remove camera sharing. The camera is only compatible with 2.4GHz WiFi networks and iOS and Android devices.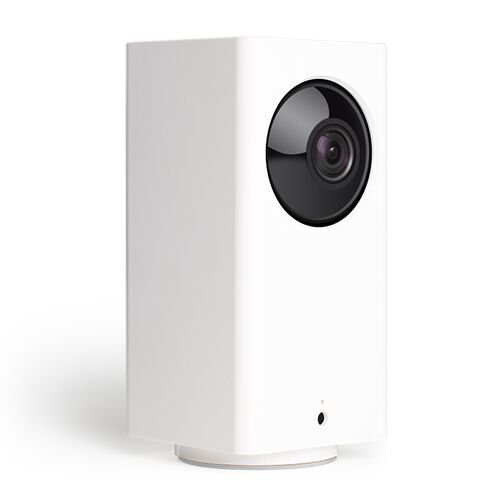 The Wyze Cam Pan 1080p costs only $37.99; it is probably the cheapest home security with high-end features that give a high-end performance. It is compatible with Alexa and has 360-degree horizontal coverage and 93-degree vertical coverage at a speed of 110 degrees per second. The pan feature can also scan a room based on up to 4 waypoints.
The video resolution is 1080p full HD and also uses six infrared LEDs for enhanced night vision. It can also distinguish up to 18 shades of gray and provides a clear image range of 30 feet. It is also equipped with motion tracking features and all motion or sound detected is alerted on the user's smartphone. It also provides 14 days of cloud storage and a microSD card slot for continuous recording. The cam also has a 2-ways audio feature.
The Wyze Cam Pan is much taller than the previous Wyze Cams. It has a motorized stand to provide 360-degree coverage and an eyeball lens for smooth rotation and a better view. The motorized disk stand allows the cam to follow motion more effectively and smoothly. The eyeball lens can zoom or tilt to capture better footage.
The cam can detect any sound or movement and will follow the motion within the cam's field of view. The flexible stand and eyeball lens also make it easy to capture videos. The cam can cover 360-degree coverage in 3 seconds. The 360-degree coverage allows the Cam to record in every direction and the 93-degree tilt features enable the device to capture from ceiling to floor.
The Cam will capture 1080p videos and will store them in the Wyze app cloud storage for 14 days. You can also download any video clip on your smartphone and store them as long as you want. You can either set the cam to detect sound and motion to capture the videos or set it to record for 24 hours. The notification alert is however slow and delayed by more than 15 seconds.
The other limitation is that it captures only 12 seconds of footage at a time although it will follow and capture the motion. The cam also cannot follow if the movement is too fast.
Conclusion
The Wyze Cam Pan 1080p is an affordable home security camera, and for its price, it is indeed an incredible device. The features offered in this device are more advanced and are at par with other expensive high-end home security cams. There are a few limitations; however, for its price, it is worth every dollar.