The VAVA Dual Dash Cam has somewhat a distinct design, especially if you compare it to other dashboard cameras available in the market today. It features a cone-shaped windshield mount, which connects to a black hockey puck looking camera.
Did you know that the camera can rotate 360-degree on the mount? That can be practical if you wish to turn it towards your side window, especially when talking to the police or when you're pulled over.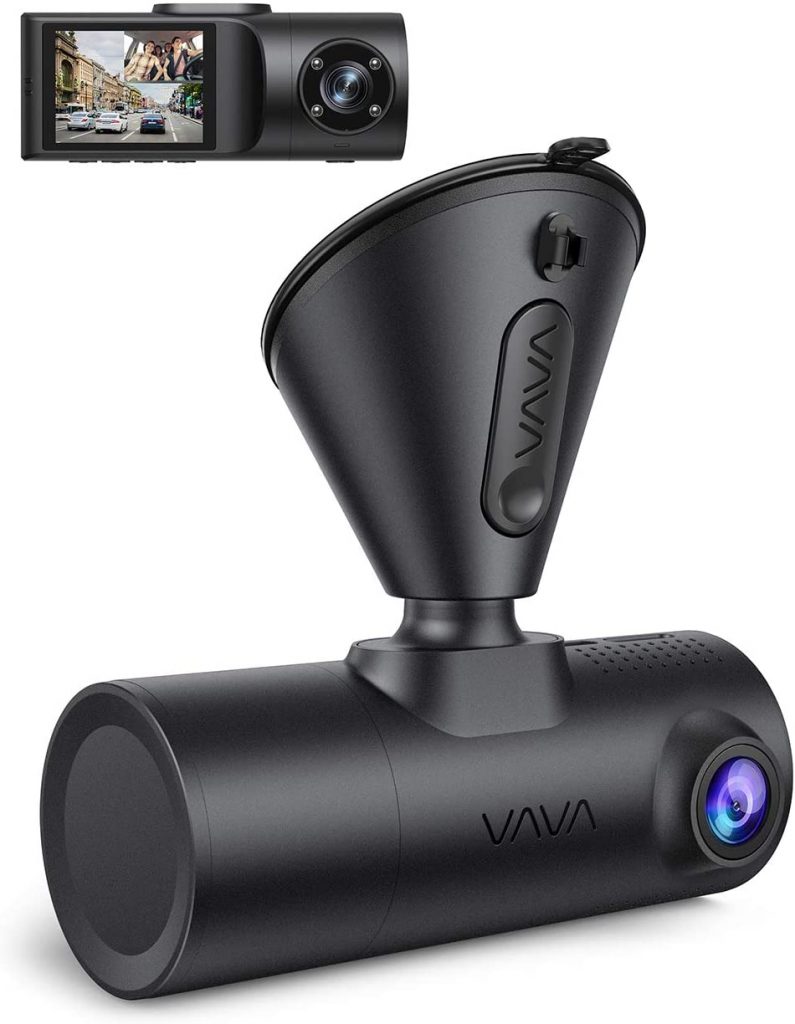 This brand got its beginning on Kickstarter several years ago and obtained a good amount of backers for their dash cam. You will find a lot of dash cam ideas on these crowdfunding sites. However, only a few make it past the preliminary stages to ship out to backers, let alone make it selling on Amazon.
VAVA Dual Dash Cam Review
Pros of VAVA Dual Dash Cam
Good video quality
The Dual Dash Cam records dual 1080p HD at thirty frames every second. The back camera utilizes a Sony IMX323 sensor while the front camera uses a Sony IMX307 image sensor. Keep in mind that the sensors from Sony are famous for their food clear day time and night vision video quality.
Connecting the camera with your phone is a breeze
You can remotely connect to the cam through your phone with the VAVA built-in Wi-Fi. You need to download the app from the app store. After that, you can remotely stream video, make changes in the settings, or download video clips.
Parking mode feature
The camera can sit on standby and begin recording when an impacted is located with the parking mode feature enabled. The camera can be activated thirty to forty times and record fifteen-second video clips with the internal 320mah battery.
Cons of VAVA Dual Dash Cam
Like other products, VAVA Dual Dash Cam comes with drawbacks as well.
Poor Wi-Fi connection over smartphones
One disadvantage of using VAVA Dual Dash Cam is that it does not pick up signals very well.
Does not come with a memory card
It would be practical if the product comes with a SD card as well.
Conclusion
VAVA Dual Dash Cam is decent in the design, along with top-notch software. It also features clear recording with a 6-layer lens that offers you an advantage over old competitors. On top of that, one of a kind magnetic mount helps you straighten and rotate the camera no matter where you like.