Both first person shooter (FPS) and third person shooter (TPS) games are considered to be one of the most popular genres the game industry has ever seen, but with so many to choose from it can get a little difficult to pick just one; so here's a list of some of the best FPS and TPS games available on PS4, Xbox One and PC – be they exclusives or not!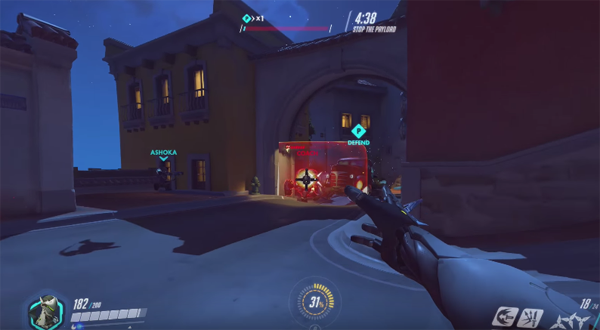 For the past year, Blizzard have been adding new content to their game and improving/balancing it on a near weekly basis and it's led to the ultimate FPS experience on either PS4 or Xbox One. Overwatch is a game that's got plenty of colour and vibrancy, fun and interesting characters that you'll never forget the names of, and a skill threshold that you can continuously work towards to become the best of the best – and thanks to a bustling eSports community, that's not exactly a bad idea!
Quite possibly the only shooter on this entire list that doesn't have a multiplayer mode, but it is considered to be one of the best FPS games available to consoles. Taking place in a post-apocalyptic Russia, the world is no longer what we once knew and every new decision could leave you lying on the ground, with more than a few bullet holes left within you.
Following on from the incredible Far Cry 3, Far Cry 4 manages to create a brand new setting; villain; and a story that revolves around said villain. Once you're done with the story, you can hop online for a little bit of fun with your friends and take on some co-op missions to tackle together.
Bulletstorm: Full Clip Edition
Originally coming out on the Xbox 360, PC, and PS3 back in 2011, the game was remastered into the Full Clip Edition and while there is some online co-op, it's the single-player story you're going to want to sink your teeth into. Thanks to a completely unique combat-system that rewards the player for being both creative and brutal, you've got a combat-system you can't get sick of with ease.
One of the biggest reboots in a long time, the 2016 reboot of Doom was very well done and is quite possibly one of the goriest games to be released as of late. The story might not be a big draw, but the wide-variety of guns, fluid movement, and satisfying death animations are just a few of the many reasons to give this new reboot a chance.
Halo is Xbox's exclusive. At this point, the whole world knows what went down with the Master Chief Collection – heavy server issues for months after the release, but once they fixed that issue it didn't stop the Master Chief Collection from being a great overall package. With access to Halo 1, 2, 3, and 4, you've got a great place to start on the story in the series and an incredible opportunity to play a series well-renowned for its online multiplayer.
Call of Duty: Infinite Warfare
A new one of these comes out every year and Call of Duty is a much loved franchise for a good reason. With gameplay that people regularly spend hours on each and every single day, you've got a multiplayer experience that you won't want to miss out on. Not when you can leap about 6ft into the air and wall-run, whilst you gun down the last enemy on the oppositions team.
The sequel to this FPS game is slowly encroaching, but it hasn't stopped Destiny from being one of the best FPS games out right now. For anyone that enjoys a great balance of both PVE and PVP content in their FPS games, Destiny is just the game for you. Level up your guardian and kit out there weapons and gear with every new mission, strike, or raid that you go on – not to mention regular updates to keep the game fresh and fun. FYI, Destiny 2 will be released in September 2017.
Quite possibly one of the most underrated FPS games of this generation so far, Titanfall 2 is quite clearly the sequel to the first Titanfall game and it's managed to fix many of the problems the original had created. Weapons are both balanced and satisfying, and calling down your giant mech (Titan) is the high-point of every single multiplayer match that you'll come across; an experience any FPS fan won't want to miss out on.
Many gamers had been hoping for an FPS game set in WW1 or WW2, and with Battlefield 1 that's what everyone had got. Filled to the brim with weapons of the past, vehicles that are synonymous with the time period, and a "battlefield" that you can level to the ground as you see fit, creating your own cover wherever you need it most – this is a title that even outranks the popular Call of Duty franchise.