Samsung is one of the world's most popular technology manufacturers today, thanks in large part to high-end devices like the Samsung Galaxy Tab S 8.4 tablet.
One of the most beautiful (and powerful) tablets on the market today, there are few other devices out there that can come close to the quality design and powerful internal hardware that this device ships with.
At the same time, Samsung has never been shy about slapping premium price tags on their flagship devices – and you can expect to spend $400 or more on this tablet.
It's an investment that you want to protect with the accessories below.

Galaxy Tab S 8.4 Cases and Covers
i-BLASON Samsung Galaxy Tab S 8.4 Case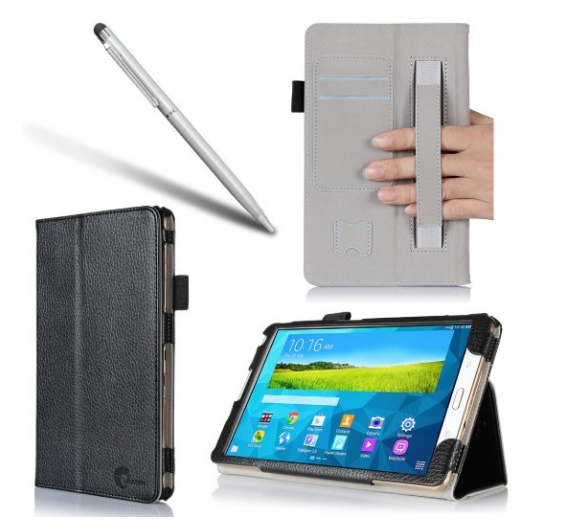 The first accessory that you'll want to look into is this a leather book looking case.
A full wraparound protective case designed specifically for the Galaxy Tab S, you'll get a lot of extra protection and convenience out of this accessory. The leather construction material will prevent damage, dents, and dings from destroying your device, but it will also help the tablet feel much more solid in the hand as well.
MoKo Samsung Galaxy Tab S 8.4 Case
One of the most popular tablet cases for this device on the market today (with more than 1700 positive reviews on Amazon), this folding cover is going to double as a protective barrier for your device as well as a "kickstand" when you want to use it hands-free.
The convertible aspect of this case definitely comes in handy for those that plan to use their new Samsung tablet as a media consumption device or a productivity tool, especially when paired with a Bluetooth keyboard and mouse.
WAWO Samsung Galaxy Tab 4 8.0 Inch Tablet Smart Cover Creative Bluetooth Keyboard Case
Similar to the case above (but considerably cheaper), this is another of the "kickstand" style device covers that you'll want to look into. It doesn't use quite as high-end of construction materials as the other options on this list (instead of real leather it uses a synthetic material, something almost plasticky or rubbery to the touch) but the overall quality of construction is still quite high.
Galaxy Tab S 8.4 Scren Protectors
JOTO – Samsung Galaxy Tab S (8.4 inch) Screen Protector Film
If you aren't interested in moving forward with a full-blown case, you'll at least want to pick up some of the screen protector films to apply directly to the front of your device. After all, touchscreens are notorious for not only picking up fingerprints (and blurring the display in the process), but they are also prone to cracks that can grow into major problems later down the line.
These screen protectors do double duty as well. They also provide antiglare protection so that you can use your tablet out in full sunlight with no headache or hassle.