The Telegram messaging app certainly does not lack in features, and its developers are continuously coming up with new features for users to try. While most social media messaging apps release one or two new features a year, Telegram offers new features on a monthly basis. What does Telegram 5.0 offer that's new for users to enjoy?
One of the latest features is its custom languages,which ensures equal treatment to all linguistic communities around the globe. App users can use its translation platform to create a custom language pack for themselves. The developers hope the feature helps minority languages – Scottish Gaelic, Maori and Transliterated Klingon – to communicate with everyone else.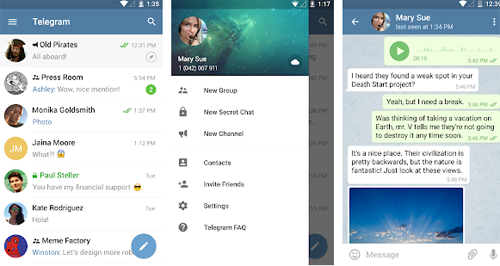 Another notable change is the Instant View 2.0,which allows users the ability to see web pages in a reliable way with practically no loading time. The latest update is built on the already-established feature with more support for image links, nested listed, collapsible text blocks, tables, etc.
Telegram users on Android phones also see a major design development. Users can now access shared media right from the profiles of individuals, groups and channels. Media previews are of high-quality, which has increased loading time. Additional information has been added to the links and files categories.
Any iOS or Android users who weren't impressed with Telegram before may be so after the latest update.  What other great features have been added to the Telegram 5.0 app?
Swipe navigation ability when reading documents in image format
Zoomed-in feature for videos when in playback mode
Album covers in Shared Music and Playlists
Pinned messages in Saved Messages and small groups
Multiple improvements and minor repairs