Price: $0.99| Developer: Zitga Studios| Download: Play Store
Satan comes back to life and his goal is to conquer the Earth. All conventional meanings of defense were unsuccessful. Now it is turn on Stickman warriors to defeat Satan and provide peace to the world. You will be one of the warriors who must win the ultimate battle.
From the Maika Empire, more precisely from the Arvila village, your hero will come. By controlling his special set of skills and magic, you will fight the army of the Satan and eventually himself. Each warrior has different weapons, which can be further customized. Also, you can upgrade him with all-new skills and weapons, in order to make it even stronger. Playing online versus real players in Ninja Battles is responsible for generating the global ranking.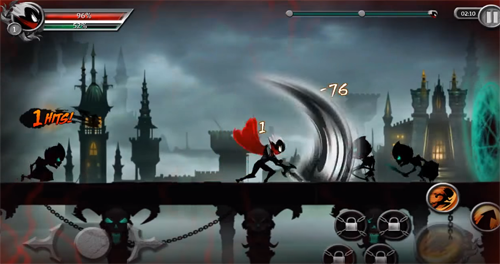 Thanks to the clever developing and 60 different engines, graphics, sound and visual effects are superb. You will enjoy advanced sound effects while also getting wonderful effects when you use magic or a specific attack. Slow motion feature is highly desirable and it makes the game even more realistic. Sound effects are carefully implemented in the game, so they are played in a specific moment, which boosts the gaming experience.
The good
Stickman Legends: Shadow Wars is more than just interesting to gamers who want to improve their heroes and to spend hours in defeating a powerful enemy. Sound effects are another advantage the game has to offer. We also liked the storyline, which is filled with details, bringing you in the dangerous world. Let's not forget hero upgrades and global ranking, for you who want to be the best players.
The bad
The game is generally too complicated and some battles will require a lot of hours to be completed. Graphics and effects require powerful devices in order to work smoothly. A few more skills and weapons would make the game even better.