In this era of smart gadgets, when a power disruption occurs for an extended period, and all devices run out of power too. This Sony ICFP26 Portable AM/FM Radio is here to give you company when you are doing your laundry, cooking, or just listening to music and news while in bed. And the best thing about this radio is that it uses 2 AA batteries, which you can easily buy at your nearest stores.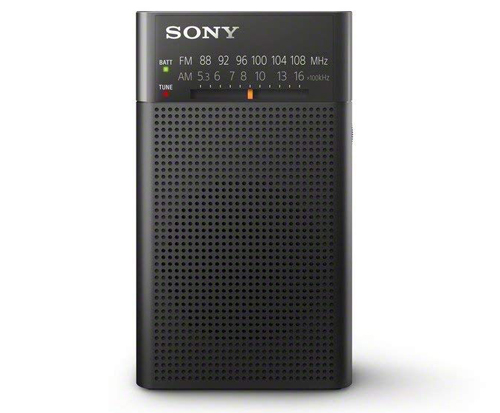 The new Sony ICF-P26 is a cheap AM/FM radio that is small enough to fit in a large pocket and comes with a built-in speaker. It has a new LED battery status indicator which runs on two AA batteries. It also has a Headphone socket, and a hand strap for carrying it around. It is effortless to use. It has a slider switch at the side to choose between AM and FM and to turn the radio off.
There are two LED lights on the front of the radio which indicate the battery status and the other shows when you have tuned in a station. The radio doesn't offer DAB.
However, the most advantageous side of the Sony ICF-P26 is that it has roughly ten times the battery life of a DAB radio and can be used for around 100 hours on fully charged AA batteries.
The radio comes with a headphone socket, which allows you to connect some high-quality headphones to get a better sound. Sony ICF-P26 has an analog frequency display and Telescoping antenna. It uses two AA batteries which are sold separately.
Using AA batteries makes the radio cheaper and more suitable to use than various radio which uses expensive types of cells. The specifications of Sony ICF-P26 are as follows:
Coordinated AM/FM radio tuner
Built-in hand strap for maximized portability
Enthusiastic earphone plugs for personal listening
LED regulation and battery-operated status indicators
Powered by 2*AA batteries
100 MW Output Power
Output and Input Terminals: Headphones Output and Earphone Output
Weight including batteries: Approx. 6.70 oz
Pros
The right size to carry while traveling.
It has a more stable and flatter base.
Long battery life, and can take rechargeable batteries.
It is easy to use.
Battery indicator alerts you whenever the batteries run low.
Affordable and more suitable to use.
An extendable aerial is useful for improving the signal.
Handy combination OFF/AM/FM slide switch on the right side.
Cons
It doesn't offer DAB radio.
Built-in speaker doesn't sound very exciting
It is made from plastic and therefore feels quite cheap
 Conclusion
If you're looking for a small and reasonably priced pocket AM or FM radio, the Sony ICFP26 is a brilliant choice. You can tune in to news updates, talk, music, and many more with the Sony ICFP26 Portable AM or FM Radio. You can use the 100MW built-in speaker or connect your headphones via the 3.5mm audio jack, to listen to your favorite AM or FM stations. And it is small and light enough for you to easily carry around the home or take with you on trips.