Like many individuals, you too desire for security, and good quality video clips footage incase of unexpected accident or criminal damages. To acquire a dashboard camera for your safety could be a very challenging and difficult task as there are lots of designs to pick. Therefore, an SIV Wi-Fi Car Dash Cam could be a handy device for all your security needs. They have high-quality videos, easy to use and it also lasts long. It has a minimalist, compact design. It is effortless to mount and unmount with Wi-FI which is the most significant positive point for this dash cam.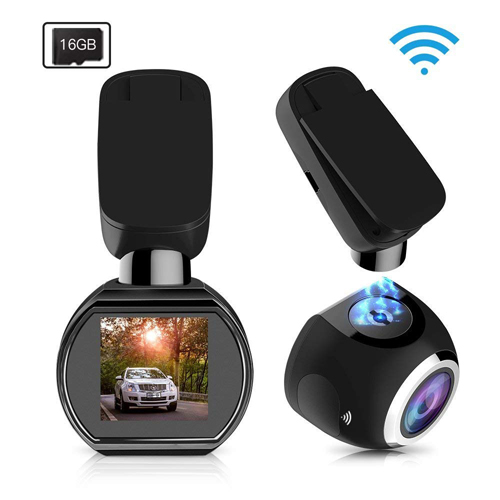 SIV Wi-Fi Car Dash Cam has a tiny 1.54-inch screen which is perfect to center position the camera. It has auto recording facilities and parking mode. It starts to record once you start the car and stops within a few seconds once you turn off the engine or remove it from its support. It has six layers of glass lens which opens up to record a broader view of your surroundings. While enabling parking mode, it continues to keep an eye on the cars with the help of a built-in battery, even when the engine is in off mode. It also has Wi-Fi which enables to use the app and view live streaming while you also see the documented videos without eliminating the camera from the dashboard. It has 360° all-around cam and a built-in high sensitivity mic which captures the footage with audio in front, around, and even inside the car. It has outstanding visibility for both day and night vision, auto loop recording, and motion detection.
It has following specification:
CPU: H.264 encoder/1080P(30fps)
Sony 1/2.9-inchExmor CMOS image Sensor
Lens: F1.8,6- glasses,140 Wide Angel
4 GHz Wi-Fi Connections
Battery: No battery but has a built-in capacitor
1920×1080(30fps) Video Resolution
Loop recording: OFF, 1Min, 2Min, 3Min, 5Min and 10Min
G-sensor: Off, Low, Medium, and High
When something moves it Record a short video
RAM: 1G
Storage: Upto 32GB and Class 10 Micro SD card
Pros:
It has a Minimalist, compact design and simple to install.
It is effortless to use. The interface of the app and in-camera is simple and easy to navigate.
It supports upto 128 GB cards.
You can connect it to your Smartphone by just downloading the HQBKING app. And with it, you can remote control it.
I has Wi-Fi support.
It has auto recording and parking mode.
It has a zoom function.
It has a G-sensor which notices vibration and turns on the camera to capture doubtful movement.
If you want to capture something on any side of your car, you can switch the camera about 90 degrees right and left.
It has high-quality videos which help to see clearly at night.
Cons:
Sometimes it gets stuck while connecting the dash cam to the app.
The memory card is not secure to pull out.
It has no battery.
It has only 10-minute loop recording.
Conclusion:
The SIV Wi-Fi Car Dash Cam is a great dash cam since it has such a mini, and compact design. It is effortless to use – the interface is what you would expect on such a device as it uses a few buttons to cycle and select. The high-quality cameras allow you to capture a license number plate. This dash cam has all the features as well as integrity which you require on your day to day journey. Purchasing brand-new dashboard cameras should be enjoyable and remarkable.  Therefore remember to take a while to look into the versions that fit your needs and meet your budget.