For most Xbox One owners, there is no bigger tragedy than not having enough memory on your hard disk drive to add a new game to the console. Some of the games, even when beaten, can be replayed again for different outcomes and hidden Easter eggs or other collectibles to be found, so players might find it hard to say goodbye to a game they didn't have a chance to explore completely. If you find yourself running out of free space, Microsoft's Seagate STEA2000403 is the best Xbox One 2TB external hard drive is the most suitable solution.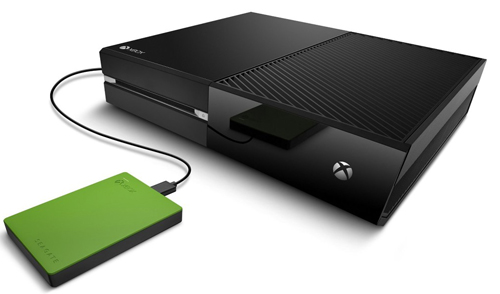 STEA2000403 works pretty well at a speed of 5,400 rpm. Within 2 to 3 minutes you'll be able to complete a transfer of a 21 gigabytes of game data. The setup process is simple; connect the hard drive to Xbox One or 360 then choose its respective format. Besides storing games, you can use it to store music, movies, files, and pictures.
Features:
Massive 2TB of storage space to accommodate  approximately 50 video games
No power cable means no tripping hazards or tangling issues
Setting it up goes by in seconds, ready for you to use
Lightweight and compact
Great price for the gained storage
Easily placed anywhere due to small size
Compatible with both Xbox One and Xbox 360
Pros:
Simple process to route your downloads directly to the drive
Beats competitors with attractive price and loads of free storage
Who wouldn't want extra space for 50 more Xbox One games to play?
No need to plug it into the wall, as it is powered by a USB port
The kind of a price this 2TB hard drive comes for would get you much less if you decided to go for the competitors, and seeing as there were no major complaints about the performance of this external hard drive, there is no reason as to not opt out and allow your Xbox One disk space to grow even larger, and let your console become a home to many games that have yet to be played.