Sand art is a creative and fun hobby that anyone can do. The only materials needed are sand, water, an object to draw with the sand (a stick or a bucket), and something to create a drawing on (paper or plastic). There are different types of sand art drawings from simple shapes in the sand to more complex designs like animals or people.
Sand art is a hobby that can be enjoyed by all ages. The inexpensive materials make it accessible for those with limited funds, and the relaxing atmosphere of creating something from nothing makes it perfect for a rainy day activity. Sand art is typically done with sand and water but can also include other media such as paint or glitter. The process is similar to that of making mud cakes- just without the cooking part!
Sand art is defined as "the practice of modelling sand into an artistic form, such as a sand brushing, sand sculpture, sand painting or sand bottles."
Benefits of Sand Art as a Hobby
Sand art is not only a fun and relaxing hobby, but it can also be therapeutic. The act of creating something beautiful can help to reduce stress and anxiety, and the finished product can be used as a decorative piece in your home or office.
There are many different types of sand art, from simple designs created with one color of sand to more complex patterns made with multiple colors. You can find kits that come with everything you need to get started, or you can purchase individual bottles of colored sand to create your own designs.
One of the great things about sand art is that it is relatively inexpensive. Kits can be found for under $20, and individual bottles of sand usually cost less than $5 each. This makes it a great hobby for people of all ages and budgets.
Another benefit of sand art is that it is easy to do. There are no complicated steps or techniques to learn, and even young children can create beautiful designs. This makes it a great activity for family gatherings or parties.
Get Started with Sand Art Bottle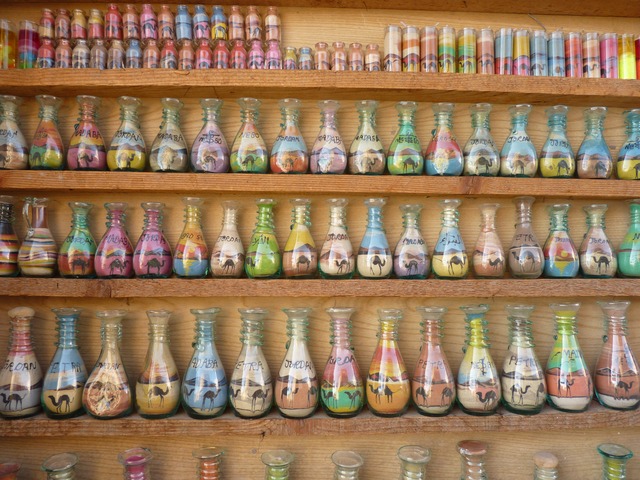 One of the most popular sand arts is sand art bottle. How did the sand art bottle begin? It was originally practiced in the desert. The sand of the desert was very fine. So, the person thought of making a sand art bottle. Eventually, people liked it and even made it as souvenirs. The sand would be ground into finer powder, and it put a variety of colors and minerals.
How to Make A Sand Art Bottle?
There are materials needed for making a sand art bottle. Here we go.
Materials needed:
Glass bottle with corks (transparent glass)
Funnel
Stick or spoon if needed
Glue gun
Bowls
Sand
Dyes
The process of making a sand art bottle:
All have to do is get the bowl with sand, choose how many colors you will use, and mix the color of your choice.
Secondly, pick the bottle depending on the size you want.
The next step is to take the funnel and put in the mouth of the bottle and put in the sand gradually make the design and color you want.
Once you get the design you want, glue the bottle in the mouth and place the cork on it so that it doesn't move or discard it.
There are many types of making sand art. All you have to do is think carefully about you want to do. Whether you want to learn or want to start making a sand art bottle. There are many ways you can learn, even when you are at home. You can watch a video tutorial. So, you can also create your own sand art tutorial. Sand art bottle making is not that hard to do!
All I have to do is practice very well, and keep your determination to make a sand art bottle. Also, there are schools that teach sand art bottle making. All you have to do is visit and inquire about sand making bottle. This kind of hobby is always expensive. It needs careful concentration and focus. Once you learn that it's easy to make the sand art bottle. This will be your hobby. You just have to learn and be self-disciplined. This type of hobby is fun, and it also shows your personality.