The Quantum Access 10 mini PC stick is a device where it is possible to carry your computer wherever you go. The tiny stick has a full Windows computer installed in it and can be plugged into the television or any monitor through the HDMI port. The PC stick has an intelligent design with its ergonomic plastic body. This PC stick allows a user more flexibility in being efficient and competent because it will enable the individual to practically carry the world without the hassle of carrying multiple devices. This is especially useful when the user is in commute or even during situations when a person merely has left an important file at home. Overall, it allows no room for human error when the Quantum Access PC stick is n possession!
The Quantum Access PC stick is installed with Windows 10 and is packed in this little device that measures only 4.33 x 1.02 x 0.45 inches. The stick is equipped with 2 GB of DDR3L RAM along with 32 GB memory. It is also powered by Intel Atom Quad Core 1.3 GHz processor. It is assembled with Gen 7 Intel HD Graphics card. The impressive hardware provides optimal computation and enhanced performance on this mini PC.
And if in case, you want to connect this to other media available, this mini stick allows you to be versatile as well. It comes with a USB 2.0 port, which will let you play music or videos and transfer files. It also has a micro USB port which provides more accessibility to the stick from external devices and for charging your device as well.
The stick is also equipped with a micro SD card slot, so if you are planning to expand your storage, please feel free to do so! Last but not least, it has an antenna for wireless fidelity.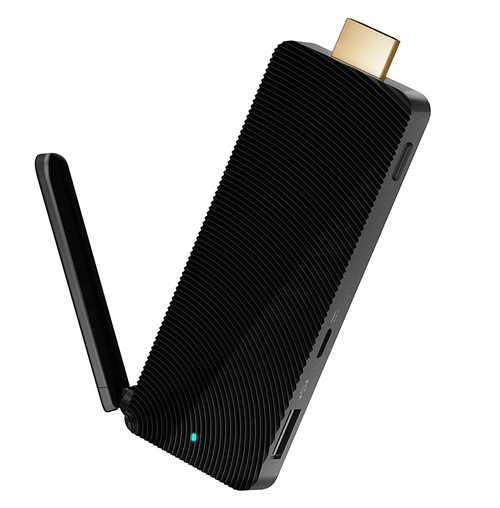 It is finally time to weigh the facts and decide if this is a product worth purchasing. So, I have taken the liberty to compile a list of pros and cons for the above device.
Pros
Portability: The size of the stick makes it easy for the individual to carry it around even for long distances because of the size. This fact makes the PC stick ultra-portable.
Versatility: Apart from the hardware that is mentioned above, the Quantum Access 10 Mini PC stick is also included with an HDMI adaptor if in case you want to hook your stick to a different port.
Wireless technology: The stick can be operated over long distances because of the antenna that comes with it. It is also worth mentioning that it has Bluetooth operation as well.
Expandable Memory: The SD card slot provides you with the freedom to add additional memory to your stick.
Cons
Easily heats up: Although this does not hinder the operation of the stick, the lack of a fan is the reason it gets heated up from usage over time.
Windows Exclusive: In short, it does not run on Mac. So Apple users have no access to this device whatsoever.
Conclusion
After putting up with the pros and cons on, it is clear that the device leans more towards the advantageous sides. I have always been a Windows user, and the other disadvantage is negligible. If you are somebody looking for a PC stick, the Quantum Access 10 Mini PC stick is the right choice.