Earlier this year, we saw the world's first 512GB microSD card introduced by Integral Memory. Unfortunately, it isn't in solid state side. During Computex 2018, PNY boasts the second 512GB microSD, the PNY Elite 512GB. The card will be available at $349.99.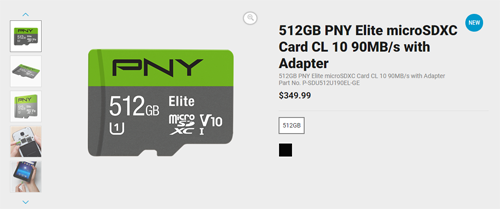 PNY says that the Elite 512GB microSD Cards can offer the capability of saving and storing over 80 hours of Full HD video content, or over 100,000 pictures (at 18MP size), or up to 100,000 songs. The card complies with Class 10 and U1 standards. That means the card has sequential write speed of 10MB/s at minimum. The microSD card offers fast transfer speed at 90MB/s.
Features:
Capacity : 512GB
Speed : 90 MB/s
Speed Class : Class 10, U1
Interface UHS-1
Accessories : Includes SD adapter
512GB PNY Elite microSDXC Card is priced at $349.99. It can be pre-ordered on PNY website.