Pillars of Eternity II: Deadfire is the sequel to the original Pillars of Eternity, which was an epic RPG in the classic style. Any fans of the original Fallout games or Baldur's Gate will know exactly what to expect from this narrative-focused CRPG. Deadfire takes away from the usual fantasy motif of being set in and around forests, swamps, ruins, that sort of thing and has instead moved for the open seas in a swash-buckling adventure that has you taking command of your own ship. Even with this new addition, the developers have managed to retain what everybody loved about the original in the first place.
As with any RPG in the known universe, it wouldn't be much of a game without a story, now, would it? Thankfully for the player, Deadfire has droves of stories for the average player to sink their teeth into, without spending hours pondering what exactly is going on in this world. Not to spoil anything, but from beginning to end, the story keeps you encapsulated as a player and doesn't let you go until the very end.
One small caveat to this, however, is that the ending does lead you to believe that there's more to come after the ending, which there is not. There are still going to be some unanswered questions, and while the hope is the next couple of expansions answer these questions, we honestly don't know if they will.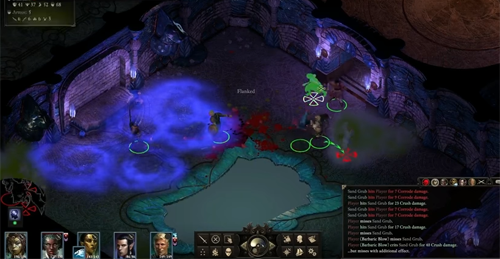 Aesthetically speaking, the game has some rather bright and vibrant locations and they show the best and the brightest the game has to offer. While at the same time, there are some rather dark and damp locations that aren't quite as appealing to look at, the game as a whole definitely has that classic RPG style to it that you would expect from something like Baldur's Gate.
Unfortunately, at times, though, the visuals do come across as if they haven't been quite polished enough, but it's not nearly big enough of a problem that's worth worrying about.
In terms of the gameplay, it is classic the classic RPG style many fans will have grown up with. There are a number of different unique characters to add to your party, all of which have their own special set of skills that can be used to devastating effect against numerous enemies.
Almost as if you were playing Dungeons & Dragons, the variety of different skills for your chosen characters is what makes the combat so much fun and intriguing the further into the game you get. A major downside to this, however, is that if you've never been a big fan of the combat in CRPGs, this game isn't going to be any different.
To be fair, the developer has put a lot of hard work into the combat to update it to modern-day standards, but if you've not spent a lot of time with this sort of gameplay, it does take a little bit of getting used to. On the flip side, though, once you do learn the ins and outs of the combat, things become a lot more enjoyable as a whole.
Overall, Pillars of Eternity II: Deadfire takes an old genre and greatly modernizes it to great effect. Gameplay, story, and aesthetics are all redeeming factors of the game, and the new exploration through using the boat is a nice extra to break away from any linearity the story takes you in.
Fans of the CRPG genre are going to consider this one a must-buy, but anyone who's not quite been hooked by the genre before may not feel any different with this game, but Pillars of Eternity II: Deadfire is definitely the closest candidate for converting them to this old and classic genre of RPG.