Cheers to all the gamers out there!
No, I'm not announcing a new game nor an awesome controller you can use to level up your gaming experience. Yes, you got it right! Now, gamers can use a gaming headset that fits their gaming needs.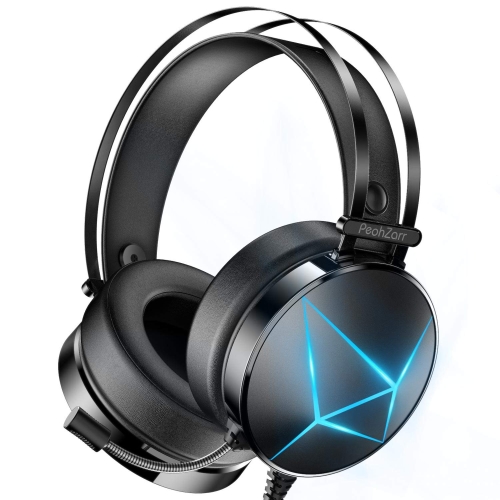 Get ready for the PeohZarr Gaming Headset – one of the best headsets for pro and newbie gamers! The PS4 headset is perfect for giving you and your fellow gamers an awesome gaming experience through its 7.1 surround sound. With the 50mm magnetic neodymium driver, you can hear sounds crisp and clear.
PeohZarr Gaming Headset is an excellent choice if you're playing any of these games:
Teamfight Tactics
GTA V
PUBG
Fortnite
CS: GO
That's not all.
Th PeohZarr Gaming Headset is compatible with your PS4, PC and Xbox One controller. The ergonomic design is pretty awesome as well.
Why?
The super-soft and breathable leatherette earmuffs allow you to experience long hours of gaming. If you love that, you would also like the noise-canceling features of the headphones. The noise-canceling feature offers you comfort in communicating with other players.
Players can also cancel the microphone to achieve an excellent gaming experience.
Wait – there's more!
Pros
Compatibility with Xbox, PC, and PS4 – The multi-platform compatibility of the PeohZarr Gaming Headset is an awesome advantage of using this headset. The 3.5mm headset is worth it!
Premium Material – Thanks to the soft leather material, gamers would be comfortable in playing their favorite games. Excellent and reliable materials prevent dirt and sweat in damaging the headset.
Noise Reduction Feature – A players gaming experience would be awesome with a noise reduction headset. Guess what? The PeohZarr Gaming Headset has a noise reduction feature that lets gamers communicate with other players.
High Quality Performance – Nothing beats the high performance of the PeohZarr Gaming Headset due to its function and features.
Cons
The Headset Feels Uncomfortable in Long Hours of Usage – Some gamers complain that the headset feels uncomfortable and heavy in long gaming hours.
Low Microphone Sound – For some players, the microphone doesn't sound that good if they're playing for hours.
One Available Color – Other players want other headset colors other than black.
New and pro gamers would love the PeohZarr Gaming Headset. With its 7.1 surround sound and superb features, any gamer would have awesome gaming experience.
Let the PeohZarr Gaming Headset give you clear sounds as you play your favorite game. Use the PeohZarr Gaming Headset now and let the game begin!