Price: FREE | Developer: Gameloft | Download: App Store, Play Store
MMORPG games are some of the most popular and the most appealing creations of all times. Here we have Order & Chaos 2, a game which is already extremely popular, due to simple reasons. It is loaded with features, meaning that all players can enjoy graphics, gameplay and etc. First of all, this is a multiplayer game, which means that you will play with and versus actual players from all parts of the world.
The game features all-new story and quests. For those who played the first sequel, this is a great improvement and probably the most appealing game at the moment. For beginners, this is a great game, period.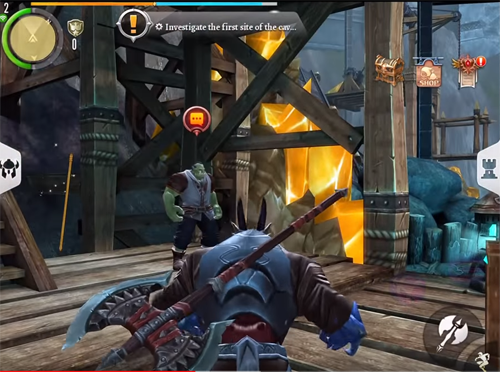 The good
The first advantage of the game is the ability to choose between 5 different races. You can be a Human, Elf, Mendel, Ork or Kratan, which is actually added for the first time. This allows you to play acharacter you like and you want to be. There are also 5 classes to quest (Warrior, Mage, Blood Knight, Monk, and Ranger). All of this makes the game more than just interesting and suggests that it will stay interesting for a long time.
Improving your weapons and character is definitely an advantage for most gamers. In essence, you will become unstoppable over time, which gives you hope and desire to play even more. Keep in mind that this is a great fact if you want to challenge another player to a duel.
The world and characters come with impressive graphics. They are realistic and paired with high-end animations, more than just enjoyable.
The bad
The game here doesn't have major drawbacks, which is normal if you know that it has been developed for demanding gamers. Still, the main issue is with the previous update. It is loaded with bugs, so you will have to install another one to solve the bugs.