The future of smart Wi-Fi routers is here. Net gear AC1750 Smart Wi-Fi Router is the next generation gigabit Wi-Fi technology. If your struggle is with your internet speed, then Net Gear AC1750 here gives you 3xfaster streaming for all your internet devices. This Wi-Fi smart router not only enhances the speed of your internet streaming but the dual-band technology and beamforming+ boost your HD streaming and make your gaming smoother.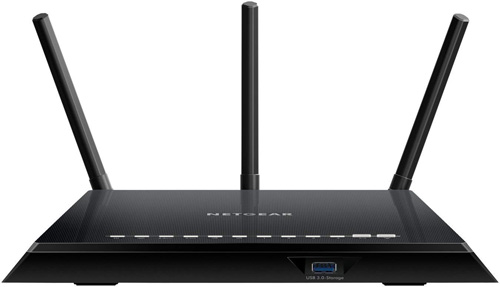 Some of its key features are:
It is compatible with Amazon Echo/Alexa – you can easily control your home network using voice commands.
The AC1750 comes with high-power external antennas and excellent internet upload/download speed.
Dual-band— gives a better connection to more Wi-Fi devices by reducing interference from other networks.
Advanced QoS—Optimized for smooth HD streaming and gaming although, System Requirements are Microsoft Windows 7, 8, 10, Vista, XP, 2000, Mac OS, UNIX, or Linux.
Beamforming+ improves range & performance plus high-powered amplifiers & antennas to extend your Wi-Fi coverage.
Parental Controls – it has web filtering for all your connected devices.
One (1) USB 2.0 port. Five (5) 10/100/1000 Mbps— (1 WAN & 4 LAN) Gigabit Ethernet ports.
Nighthawk App – you can easily set up your router and manage internet access by pausing and resuming the internet instantly from your mobile device.
The NETGEAR Smart Router has revolutionized the maximum use of the internet at home. With this new gear, there are no dead spots anymore. You get excellent reception in every corner of the house and a decent response outside the house. It has completely solved the range problem. The web controls of this router are fantastic, and their ability to block and filter internet traffic is a definite plus point. It can be set up easily even If you are someone who has no experience in assembling a router. And with the Nighthawk app, allows you to control and monitor your connection from a smartphone, tablet, or PC; it helps you to change your settings or to keep a check on your network status.
This router is three times faster and to avoid disconnections while gaming or watching videos, this router also gives you a feature to take control of the network traffic.
The only drawback of the Net Gear AC1750 is that it consumes more space than regular routers, and that can be a problem for some users.
We live in a generation where it becomes almost impossible to work and function without an internet connection, and to have a good internet speed depends on your router.
The Net Gear AC1750 has proved itself to be one of the smartest routers of its generation, and it functions pretty well. Although not everyone can manage to buy one because it falls in the mid-range category, if you are willing to sacrifice for a machine such as this smart router, its great functions and performance won't disappoint you. It's well-built, and intelligently designed, especially for big homes and magnificently performing devices. It's worth the money. Go and get yourself a Net Gear AC1750 and use the internet never like before!