Minix NEO A2 2.4G Wireless Keyboard Mouse with Microphone and Speaker for Android TV box, Support Gyroscope Games and PC Media Player
The Minix Neo wireless keyboard mouse features a micro USB for plug and play use. This is a double sided keyboard that includes built in speakers and a microphone, which provides a great alternative for Skyping and other applications that require VoIP. This air mouse/keyboard also provides gyroscope support for the Minix Neo series.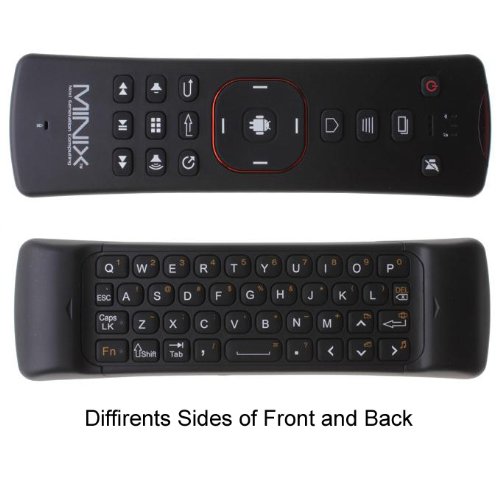 Pros
The Minix Neo A2 provides a double sided keyboard, which is a step up from other air mouse devices. The added speaker and microphone is also a plus, especially when wanting the ability to talk over your internet connection.
The addition of the QWERTY keyboard allows for faster data entry that the traditional point and click typing. This remote works very similarly to a Wii remote, providing point and click handling. The sensitivity of this function can also be adjusted for higher or lower sensitivity depending on individual user needs.
The gamepad option allows for compatibility with games requiring gyroscope functionality on the Minix Neo series.
The newer remote also uses updated firmware, which provides a better overall experience, and less quirkiness during use.
Cons
This wireless keyboard remote drains batteries very quickly, even though it is advertised with a power saving function. Additionally, users need to be aware that the unit requires 1.5V battery ratings, rather than the traditional 1.2V. Using the lower voltage will result in the remote not working as expected, and dying very quickly.
When using this remote, the speaker feature makes the sound automatically default to the remote. This requires manual setting changes every time the remote is turned onif you want to hear the sound through the normal speakers.
Many users have also experienced problems with the microphone and speakers not working upon arrival. As these are major features of the Minix A2 remote, hopefully this issue will be resolved as soon as possible. Those that have had issues have also found very little support available from Minix in addressing their concerns.
Conclusion
Overall, the Minix A2 is a great option for those wanting an air mouse with keyboard functionality. When the unit works properly, it provides everything needed or wanted in a wireless keyboard for android TV boxes, and the Minix Neo series. It is also available at an affordable price compared to other options available.